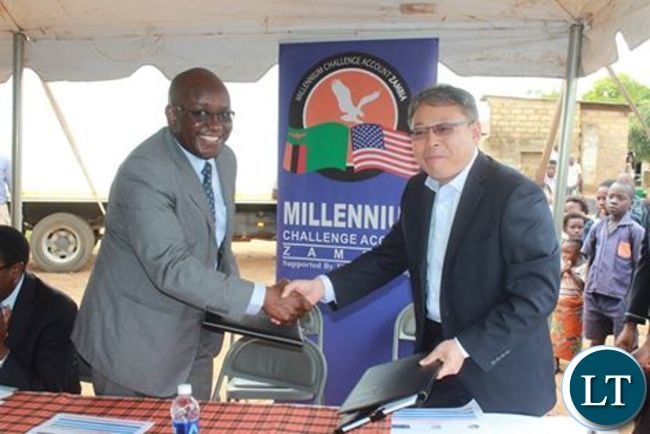 Millennium Challenge Account Zambia has terminated two contracts with Elevolution Engenharia (Elevo) of Portugal worth US $52.3 million under the Lusaka Water Supply, Sanitation and Drainage Project for consistently failing to meet its construction targets and to remedy performance concerns despite sustained efforts by MCA-Zambia.
According to MCA Zambia Head of Communication John Kunda, the underperformance by Elevo poses a risk of not completing the infrastructure works on schedule thereby denying the residents of Lusaka, the expected benefits of increased access and availability of clean water and proper sanitation.
Dr. Kunda said Elevo has also continuously failed to ensure quality work according to Contract specifications, including the reinstatement of public roads and private driveways.
He further said Elevo has not been compliant with the labour laws of Zambia resulting in industrial unrest among its construction staff.
"On behalf of Government of Zambia, MCA-Zambia is fully committed to ensuring that the two infrastructure contracts are delivered for the benefit of the people of Zambia and the expectation of the United States Government, through the Millennium Challenge Corporation (MCC)," Dr. Kunda said.
Elevo was contracted in February 2016 through a competitive and transparent procurement process to construct water supply and sewerage network in both Mtendere and Mtendere East.
This included laying about 60 kilometers of water main supply lines and 82 kilometers of sewer lines, and select sewerage facilities in Salama Park and Chelstone.
In addition, Elevo was contracted to carry out works to replace old, leaking water pipes to reduce water losses in the existing network and to replace malfunctioning and obsolete water meters, in select parts of Lusaka to improve accurate billing.
"MCA-Zambia reassures its various stakeholders of its unwavering commitment to ensure that the construction works are completed, in line with Lusaka Water Supply, Sanitation and Drainage Project objectives," Dr. Kunda said.