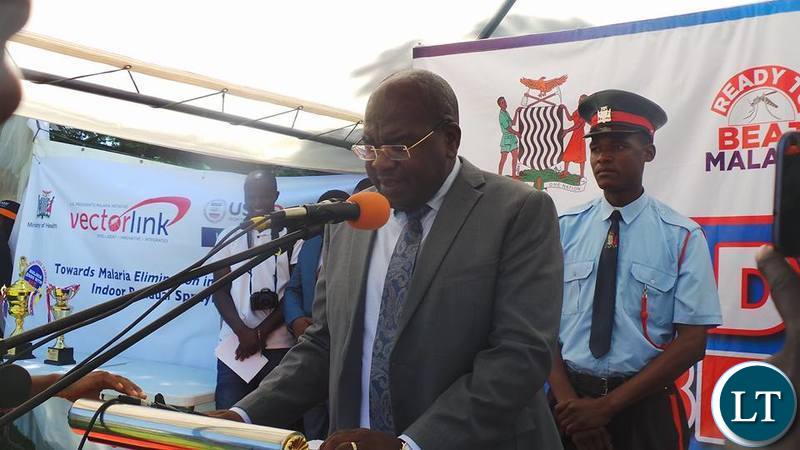 Health Minister Dr Chitalu Chilufya has revealed that seven suspects have been arrested over the theft of drugs and medical supplies at Medical Stores valued at US$ 1 million.
And Dr Chilufya has lashed out at social media bloggers who have criticized government over the scandal and described them as rumour mongers who lack effort in finding out the truth.
Addressing a media briefing in Lusaka yesterday, Dr Chilufya said seven suspects have been apprehended, some of whom where employees of Medical Stores Limited over the scandal.
Dr Chilufya said a further two Congolese nationals, have also been arrested and that they are appearing in the courts of law.
The Health Minister also disclosed that existing security contractor was terminated and a new one engaged and that the Zambian Police Service has been deployed at all Medical Stores Limited Warehouses in Lusaka.
He said all high value products are under kept under stringent lock and key and retained in severely restricted areas.
Below is Dr Chilufya's full statement
Press Briefing Statement On The Collaborative Initiative Between The Ministry Of Health And Global Fund, To Provide Enhanced Security Of Commodities At Medical Stores Limited.
10th May 2018
Minister of Health Hon. Dr. Chitalu Chilufya MP. MCC
Members of the Press, Ladies and Gentlemen,
Welcome to this press briefing
The purpose of this briefing is to inform you, and through you, the great nation of Zambian, about our ongoing health systems strengthening collaboration, with our Partner, the Global Fund.
The social media has in the recent past days been awash with inflammatory stories purporting that the Ministry of Health has been discovered to have been responsible for massive thefts and losses of Global Fund supported commodities at Medical Stores Limited (MSL). This is an old story that has been very decisively dealt with proactively, both at Government and Institutional level.
The social media that is not informed and alert has noted a recent publication of an old activity that covered the period 2014-2016 and amplified it as "Breaking News". This is simplistic rumour mongering that reflects a lack of effort in finding out the truth.
The Global Fund is a very strategic partner for the Government of the Republic of Zambia in public health investments to end epidemics in HIV/AIDs, TB and Malaria. Programmes supported by the Global Fund have contributed to a radical reduction of malaria deaths of up to 70% between 2010 and 2015 period.
Further it is appreciated that Global Fund investments in HIV/AIDS have contributed to reducing HIV Prevalence to the current 11.6%. Through the support of Global Funds, PEPFAR and other key partners Zambia has built one of the largest public health supply chains in Africa that has contributed to increased availability and access to key public health commodities.
Investments in commodities and supply chain for HIV/AIDS, Malaria and TB are now in excess of US$140 million.
Much of the supply chain of the commodities is handled by Medical Stores Limited, which is a key public health institution responsible for equitable distribution of Essential Medicines to the Zambia people.
Distinguished members of the press, Ladies and Gentlemen
In October 2016, as part of collaborative transparency with Global Fund in the management of supplies, The Government through Ministry of Health commissioned a surgical investigation following intelligence reports of a highly organised crime cartel involving a few MSL employees and Congolese nationals in the diversion of public health commodities from the supply system.
This information was shared with the Global Fund which in the true spirit of partnership availed an external, conflict of interest free and objective forensic audit covering the period 2014 to 2016 to assist quantify the risk, as well as identify the suspected losses in the supply chain system.
Ladies and gentlemen findings from Global Fund forensic audit that Government proactively initiated, covering 2014 and 2017 have uncovered losses that include:
Finding 1. 5,790 HIV test kits valued at US$416,379 (7.5% of total Global Fund-financed kits delivered between 2014 and 2016)
Finding 2. 67,967 bottles of antiretrovirals (ARVs) valued at US$423,209 (2.6% of total Global Fund-financed ARVs delivered between 2014 and 2016)
Finding 3. 11,442 artemisinin-based combination therapy packs (ACTs) valued at US$214,486 (2.4% of total Global Fund-financed ACTs delivered between 2014 and 2016)
Finding 4. 2,521 malaria rapid diagnostic test kits (MRDTs) valued at US$10,714 (1.7% of total Global Fund-financed kits delivered between 2014 and 2016)
Finding 5. Weak internal controls in systems at MSL that put products at risk of diversion.
Members of the Press, ladies and Gentlemen
Allow me to remind the nation that His Excellence the President of Republic of Zambia Mr. Edgar Chagwa Lungu has set a tone for zero tolerance to thefts and diversion in the public health supply chain system. The Head of State has issued severe warnings to Health Workers and he has been consistent at different for a on the need to uphold values of integrity and being upright in the discharge of Public service.
Investments in health come at huge sacrifice by taxpayers, both local, and those from the brotherly nations and institutions that give a helping hand, and cooperate with us as partners and therefore as a responsible Government, we could not sit idle when there was evidence of unscrupulous behaviour resulting in loss of resources.
Members of the Press, fellow citizens
Ladies and Gentlemen, arising from these findings, And in the spirit of the Directives Given by His Excellency the President, Government swiftly made a decision and instituted disciplinary removal of the leadership and Management at MSL. Seven suspects have been apprehended, some of whom where employees of MSL. A further two Congolese nationals, have also been arrested and are appearing in the courts of law. Further decisive action has included the following:
1. The existing security contractor was terminated and a new one engaged; additionally, the Zambian Police Service has been deployed at all MSL Warehouses in Lusaka. All high value products are under kept under stringent lock and key and retained in severely restricted areas.
2. The Ministry of Health, with all its supply chain stakeholders conduct joint weekly cycle count activities to improve transparency and visibility of the system
3. Government, working through the New MSL Management has developed a Whistle Blower Policy and revised the MSL Human Resource Handbook that strictly guides staff behaviour and practices. In this vein, the Zambian Public are being requested to report any unauthorised activities to the leadership at MSL and The Ministry of Health.
4. All new MSL trucks have a warning that states "This truck is carrying medicines for the people of Zambia. Report any suspicious activities on the this truck to MSL"
5. Government has included the Drug Enforcement Commission, ZAMRA and Police in safeguarding stewardship at MSL. A dedicated task force to investigate corruption and theft at MSL has been established that acts on inter border diversion activities.
Country men and women, members of the press, as a result of the reforms the Ministry of Health has instituted at MSL, wastage of supplies has reduced by more than 95% and indeed for the first time in MSL history there is Zero expiry of ARVs in 2018.
I wish to clearly state that the Government investigations instituted at MSL will continue until all culprits to this crime are brought to book.
There will be no sacred cows in this process as we create a clean and credible MSL as part of the Health Service Deliver pillars in Zambia. I wish to call on the Public to protect what is theirs by taking advantage of the Whistle Blower policy in place to report any suspicious activities in the supply chain to relevant authorities.
Ladies and Gentlemen
The emphatic and decisive actions and reforms implemented by the Government at MSL have been hailed by the Global Fund through a statement from their Executive Director who in the Global Fund Audit Report has stated and I quote "After discovering the problem, Zambia's response to the losses at MSL has been exemplary.
Since this issue came to light, MSL changed its senior management and co-operated fully with the OIG investigation. It implemented enhanced stock controls and security arrangements. New management also strengthened its internal audits and developed a whistle-blower policy.
The Global Fund initiated support to a multi-agency national task team, which conducted high-profile investigations and enforcement operations that led to arrests associated with an organized cross-border crime network targeting MSL.
Seven people, including former employees of MSL and two foreign nationals, have been taken to court.
The Zambian authorities continue to investigate. The Global Fund is working with stakeholders in Zambia to review and strengthen physical security systems at MSL and its regional hubs and has agreed with MSL and the Principal Recipient, the Ministry of Health, on specific management actions to address gaps identified during the investigation".
This information is widely accessible on the Global Fund Website, and I therefore urge all Zambians, to maintain patriotic values, and not shoot from hip, on issues that may injure our relationships with strategic partners such as the Global Fund. What gains does amateurish reporting and writing and commentary will it benefit any Zambian, when we put lives at risk by tarnishing our own image? Let us all be serious.
As I conclude, I want to assure the Zambian people that the supply chain for Malaria, TB and HIV commodities is intact, and all our Partners are solidly with us in their steadfast support. We shall continue as Government to provide the steady hand on our stewardship role, to ensure that the health of all Zambians is not only maintained, but enhanced in order for us to build a nation of productive and healthy citizens, that shall see the fulfilment of the vision Zambia 2030.
The results of what happen, when we work together, are abundantly manifest, and in this I must thank the whole fabric of our society, for coming together to this day, when we are reporting zero cases of Cholera, from the epidemic that recently confronted us.
I thank you.