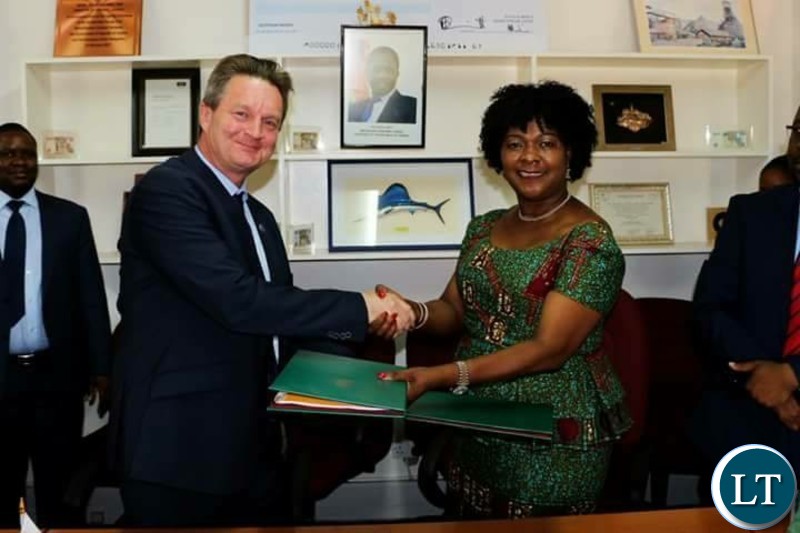 Zambia and Finland have signed a four year Nine million euro grant aimed at enhancing the development of the private sector.
The grant will be channeled towards promoting accelerated growth for Micro, Small and Medium Enterprises (MSME'S) in the country.
Speaking during the signing ceremony held at the Ministry of Finance on Friday, June 02, Finnish Ambassador to Zambia Timo Olkkonen expressed optimism that the Nine million euro grant will help create better jobs in the private sector.
Mr Olkkonen said the Finnish government wants MSME to have direct access to finance, innovation, so as to improve competitiveness in the private sector.
He noted that the grant has the potential to contribute to the growth of local businesses as well as enhance the development of services.
The Ambassador noted that Zambia has good prospects for long-term sustainable development if right policies are properly implemented.
Mr Olkkonen noted that the Finnish government will further capitalize on the long term cordial relations that exist between the two countries in order to explore other new avenues of co-operation.
And Minister of Finance Margaret Mwanakatwe says the grant support resonates well with Government's Financial Inclusion Strategy whose overall aim is to support small businesses as part of Government's economic diversification agenda.
Ms Mwanakatwe said more jobs will be created once the development of the private sector is supported and strengthened.
The Finance Minister pointed out that the creation of new jobs will further broaden the domestic tax base in the country.
And Ms Mwanakatwe added that government is very supportive of initiatives aimed at improving the livelihoods of citizens.
She stated that the private sector should be in the forefront in growing the country's national economy.
"With small business enterprises constituting the bulk of business activities in the country, it is important that we harness their growth and development. If effectively mentored through their early stages of development, I truly believe the small businesses can spearhead the advent of broad based economic revitalisation and poverty alleviation." She stated.
The Minister said the grant assistance will enable MSMES access affordable loans and transfer technology innovation and research know-how from Finland to Zambia.
"Further, it is gratifying to note that through the programme signed today, linkages will be created between Zambian organisations and their Finnish counterparts." She said.
"It is further gratifying to note that this assistance underscores Finland's continued and unwavering support towards our private sector which, started as far back as 2007. It is my sincere hope, therefore, that this new programme, will help Zambia develop a more dynamic and responsible private sector." She added.