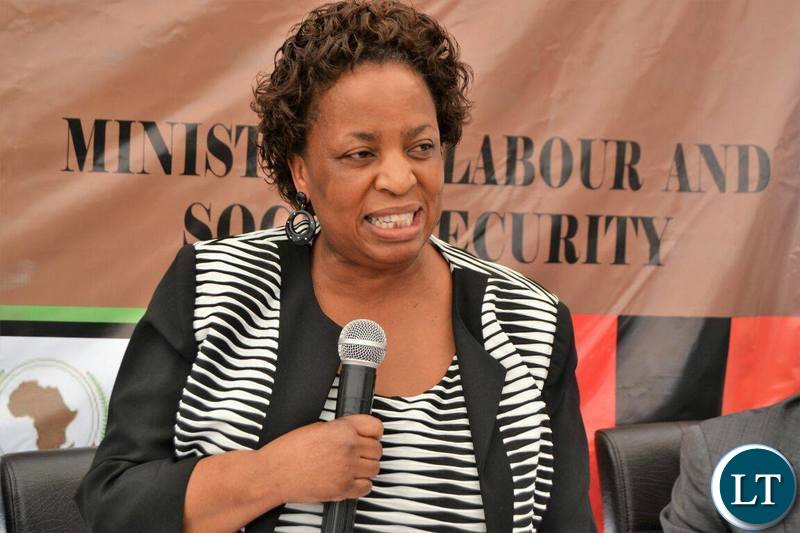 Minister of Labour and social security Joyce Simukoko says the country will soon have a new minimum wage.
Mrs. Simukoko says her ministry has concluded negotiations to revise the minimum wage, which has been submitted to the ministry of justice.
She says the minimum wage has remained the same for six years hence the need for its revision.
Mrs. Simukoko has also urged unions to ensure they use workers contributions for the intended purpose.
She says her ministry has received disturbing reports that some unions are misapplying workers contributions.
Mrs. Simukoko was speaking when she, in the company of the labour commissioner Chanda Kaziya and other officials from her ministry paid a courtesy call on the Zambia Congress of Trade Unions -ZCTU- management in Lusaka today.
Mrs. Simukoko further urged ZCTU to engage in employee empowerment negotiations, because times have changed and negotiating technics need to change.
And ZCTU secretary general Cosmas Mukuka said his union is committed to improving the welfare of workers by providing harmonised relations between the government, employers and employees.
Meanwhile, National Union for Public and Private Educators of Zambia (NUPPEZ) in Chama District has urged Teacher Unions to work for the best interest of teachers.
NUPPEZ Chama District Coordinator Lackson Lungu says unions get a lot of money from their members but do very little or nothing at all to benefit the members who contribute to them.
Mr Lungu was speaking when he addressed teachers during an extraordinary union meeting held at Chama District Resource Centre today.
He urged teachers to demand good representation from their unions adding that a T shirt or shirt at the end of each year cannot constitute teachers' benefits.
Mr Lungu stated that NUPPEZ is now a union of choice for many teachers because of it's agenda towards empowerment of members.
He sited land empowerment, cooperatives, revolving fund and the registration of a university as some of the innovations NUPPEZ had put in place to directly benefit its members.
Mr Lungu also said NUPPEZ will never be silent on matters that affect teachers.
During the event more than 20 teachers applied to join NUPPEZ.
[Read 403 times, 1 reads today]