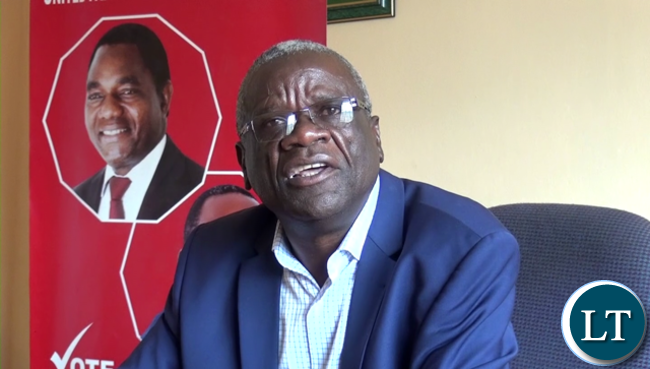 The opposition UPND has charged that it is outrageous and hypocritical for President Edgar Lungu to push for its leader Hakainde Hichilema's exit from politics.
In a statement, UPND Secretary General Stephen Katuka said President Lungu should not preach democracy because this is the man who came through pangas and machetes at Mulungushi Rock of Authority before 2016 elections.
"From our side, Edgar Lungu came into Patriotic Front (PF) leadership undemocratically. But this does not bother us because we know that dictatorship is his DNA. This is the man who has been abrogating the constitution with impunity even when law is very clear on the stay of Ministers after dissolution of parliament. To date, ministers have not paid back the money even after the court that they should pay back," Mr Katuka said.
"This is the same man who does not believe in an independent Zambia Police Service, not even an independent media. The Post Newspaper is no more today because of Edgar Lungu's undemocratic style of leadership," he said.
"As if that is not enough, this is the man who has seen many Zambians lose their jobs in national interest for simply belonging to particular ethnic grouping. Instead of discussing President Hakainde Hichilema, we expect Lungu to tell the people of Zambia what he is going to do to address the poverty that he has caused on the people of Zambia."
Mr Katuka said the UPND expects President Lungu to tell the people why he has failed to complete the City market in six weeks as was earlier announced by his Vice President's Permanent Secretary.
"We expect Lungu to tell the victims of COMESA, Mufurila fires and others what measures his government has put in place to compensate them and not discussing President Hichilema. We also expect Lungu to tell the nation what plans he has for street vendors whose life he has made miserable through his miscalculated policies. We expect Lungu to tell the nation why Zambia has the most expensive roads, ambulances and fire tenders."
Mr Katuka has since called upon the Zambian people to denounce leaders who have no vision.
"Lungu should know that the people of Zambia are more concerned about how they are going to remove him from power since he has shown serious hunger for power that he is ready to even defy the constitution and go for a third term."
He added, "Zambians is very unfortunate to have a leader who has no vision or any clue of how to address the challenges affecting them. A leader who has brought violence and aggression on the country. Incase leadership has gone to his head and blinded him, we wish to remind Lungu that many Zambians are sick and tired of his corrupt government and are now looking for the best way to remove him democratically."
"We call upon all sober minded Zambians to read the UPND constitution so that they are not misled by someone who fails to understand even the national constitution," Mr Katuka said.