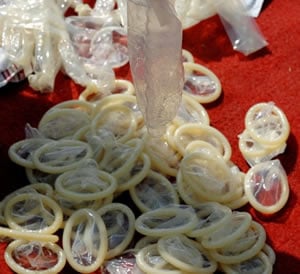 The Zambia Compulsory Standards Agency has seized 80 packets of rubber condoms in Livingstone city.
This was done in an effort to ensure that there is safety and quality on the compulsory standard products.
"On the 26th June, 2018, ZCSA Office in Livingstone received a phone call from an unidentified customer to an effect that he had purchased expired condoms from Stop Shop situated in the 217 area in Livingstone District of the Southern Province of the Republic of Zambia. Without any delay, the ZCSA inspectors swung into action and conducted an on-spot inspection," said Agency Spokesman Lee Hamunji.
"After conducting a thorough check, it was indeed established that there were some expired condoms namely, 8 packets of Contempo hot condoms valued at K160.00 expiry date October 2017. 72 packets of Contempt endurance condoms valued at K1, 728.00 whose expiry date was April 2018".
Mr Hamunji said some of the parameters that are used to test for condoms include thickness of the condom, length and width of the condom, water leakages, bursting volumes and pressure and also freedom from holes and visible defects.
"In accordance with the provisions of ZS 386: 2000 (rubber condoms-specification) read together with the Compulsory Standards Act No. 3 of 2017: Section; 16. (1) and the powers vested upon Inspectors, the products were seized. ZCSA would like to urge all suppliers and manufacturers to ensure that they continuously do stocktaking and remove products whose shelf life has expired."
[Read 63 times, 1 reads today]