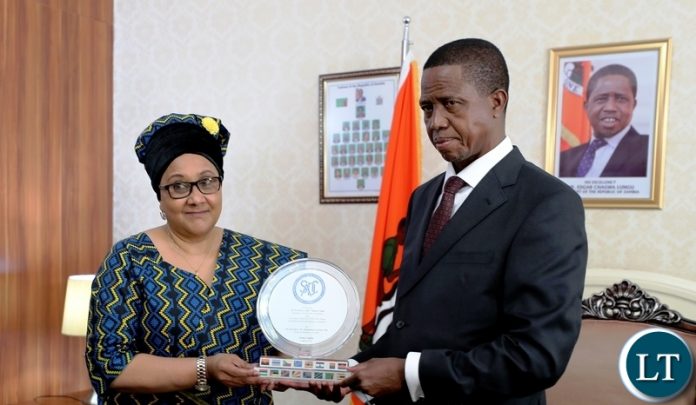 The Southern Africa Development Community (SADC) Executive Secretary Stergomena Tax has commended President Edgar Lungu for accepting the Chairmanship for the Organ on Politics, Defense and Security Cooperation.
Dr. Tax noted that the SADC Chairmanship for the organ on Tax, Defense and Security Corporation, is not an easy task as it calls for serious commitment, time and resources.
She was speaking in Lusaka today when she paid a courtesy call on President Lungu at State House.
Dr. Tax stated that the meeting with President Lungu was aimed at briefing the Head of State on important issues that come with the SADC Chairmanship and also to provide guidance.
She added that her visit also involves exchanging views on the role of the Chairmanship as well as how to relate with other structures within the community.
The SADC Executive Secretary said other issues of importance that needed to be discussed with President Lungu include the general political situation in the region and consolidation of democracy among the SADC member countries.
And Special Assistant to the President for Press and Public Relations Amos Chanda told journalists that the meeting also looked into the security situation in the region and also focused on the electoral process in Zimbabwe.
Mr. Chanda said Dr. Tax is hopeful that the two political parties in Zimbabwe will resolve their post-election situation in a civilized manner that would stabilize peace in that country.
He also said the SADC Executive Secretary further revealed that President of the Democratic Republic of Congo Joseph Kabila assured SADC that he would abide by the country's constitution that bars him from contesting in the December elections.
Meanwhile, Mr. Chanda said President Lungu who takes up the SADC Chairmanship this month pledged his commitment to promoting democracy in SADC member states.
Mr. Chanda said President Lungu made an assurance to offer the experience that Zambia has demonstrated during transitions to promote and maintain peace in the region.
He added that among other things, President Lungu pledged his commitment to ensure that all parties taking part in the December DRC elections, campaign freely and that the election unifies the people in that country.
[Read 234 times, 1 reads today]