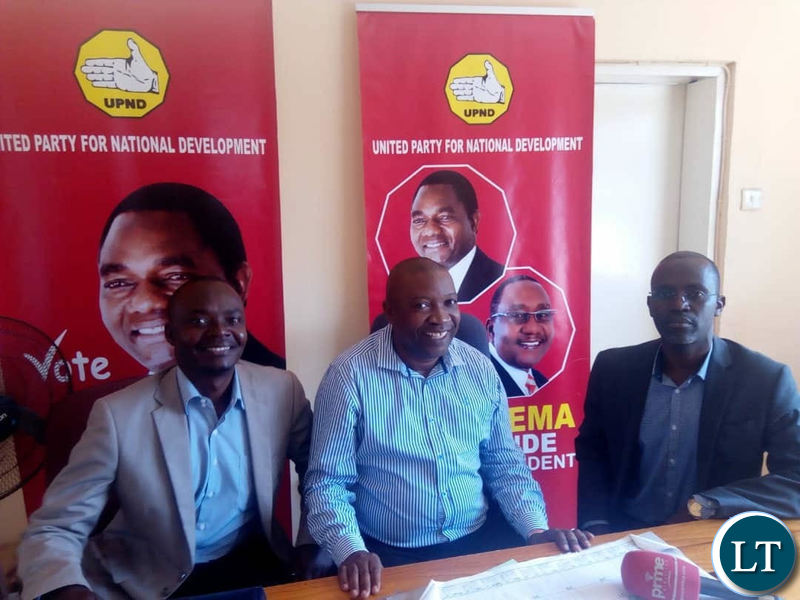 The opposition UPND has adopted Dr. Faustin Banda as its candidate in the forthcoming Kasenengwa Parliamentary election slated for September 6th,2018.
Announcing Dr Banda's candidature,UPND Deputy Secretary-General for politics Patrick Mucheleka says the candidate was adopted after a vigorous process at all levels of the party and was confident of the choice.
Mr.Mucheleka said the party was confident of performing well in the election as it has adopted a viable candidate who is not only a native of Kasenengwa but understands the challenges the people were faced with.
He further appealed for a violent free election to allow for a huge voter turnout unlike the trend in the past elections characterised by apathy.
And Dr Banda prayed for a violence free election as the people of Kasenengwa were naturally peaceful people.
Dr Banda, an Engineer by profession is currently the Acting Head of the Department of Geomatic Engineering at the University of Zambia.
The Kasenengwa seat fell vacant following the death of Victoria Kalima.
Dr Banda contested the same seat in the 2016 poll and amassed 1,371 votes losing to eventual winner Ms. Kalima of the PF who had 12,494 votes.
Meanwhile, Only two political parties have so far expressed interest to contest in the Shikombwe Ward by-election in Mangango constituency in Kaoma district, Western Province.
The two political parties are the Patriotic Front (PF) and United Party for National Development (UPND).
And the District Electoral Officer Namukolo Kalufwanya who is also Kaoma Town Council Secretary has confirmed having received notification from the two political parties.
Mrs Kalufwanya disclosed to ZANIS in an interview that the two candidates will file in their nominations tomorrow, Thursday August 9, 2018.
She explained that her office does not expect any political party to conduct any campaigns until the candidates have successfully filled in their nominations, after 15:00 hours tomorrow.
Meanwhile Acting PF District Chairman Kelvin Kalimbwe confirmed his party's participation in the by-election but could not disclose the name of the candidate.
And UPND District Chairman Andrew Kakumbi also confirmed his party's participation in the by-election but also withheld the name of the candidate.
The UPND candidate is expected to file in his nomination between 10:00 and 11:00 hours, while his PF counterpart will file his nomination between 14:00 and 15:00 hours.
The two political parties have since pledged to conduct their campaigns in a peaceful manner.
The Shikombwe Ward by-election fell vacant following the resignation of UPND Councilor Kalenga's Kalenga, who joined the PF.
[Read 197 times, 1 reads today]