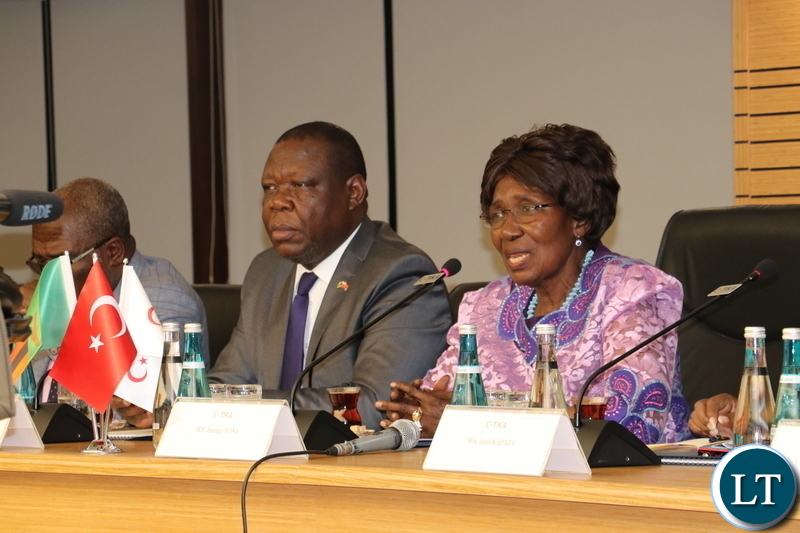 Vice President Inonge Wina is today among 52 Heads of State attending the 6th Ordinary Congress of the ruling Justice and Development (AKP) party of Turkey.
Mrs Wina is in Turkey for a three day state visit at the invitation of the Turkish Government.
Meanwhile, government has called for increased trade volume between Zambia and Turkey.
She said Zambia and Turkey have a trade volume amounting to 22 million United States dollars a situation she described as low.
The Vice President has since emphasised the need to increase the trade volume to spur development in the country.
She said this when she met Turkish business executives at the Zambia-Turkey business forum organised by the Turkish business community yesterday.
Mrs Wina affirmed government's desire for enhanced relations between the two countries.
The Vice President said government is committed to sustainable development, good governance and rule of law in order to attract investment.
She said government is looking at ways to woo investors in cutting edge technology and encouraged investors to consider investing in sectors such as tourism, agriculture manufacturing and energy.
In the aviation industry, Mrs Wina said Zambia is positioned to be an economic hub in the aviation industry as Turkish airlines is expected to start operating a direct route from Zambia to Turkey this December.
She later visited the President of the Turkish Cooperation and Coordination Agency (TIKKA) Sedar Cam.
And Dr. Cam told Mrs Wina that his organisation will consider to invest in women empowerment projects in Zambia.
Dr. Cam added that the organisation is also ready to offer technical training in various areas such as agri-mechanism.
He added that Turkey is also ready to provide technical training in High Tec and greenhouse mechanism.
[Read 83 times, 1 reads today]