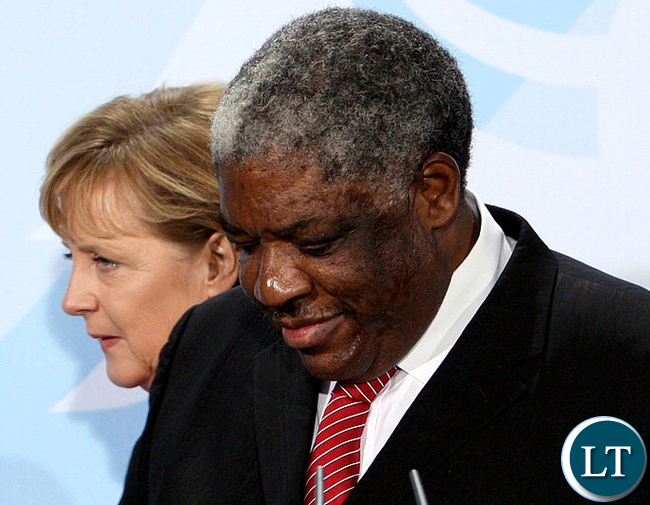 "The problem Mr Hichilema is having now is the fact that he wants to cheat, to mislead, to show that he is what he is not."- MWANAWASA MEMOIRS
By Sunday Chanda
Listening to Mr. Hakainde Hichilema's attempts to eulogise the memory of late President Levy Patrick Mwanawasa on Prime TV'S Oxygen of Democracy was shocking and ridiculously pathetic. At the risk of sounding like a broken record, Hichilema went all the way to whine and groan about what he considers to be our failures as the Patriotic Front. At this point we can tell his vibe line by line even before he opens his mouth because he has nothing new to say except that bitter script he has mastered over the years.
Mr. Hichilema despised and abused President Mwanawasa while he was alive. How then can he today sing the praises of the same person after his death? This just goes to show the extent to which the Opportunistic Hichilema will go to try and salvage his relevance as he sinks in the mire of oblivion. Mr. Hakainde Hichilema is where desperation and opportunism meet. Zambia has no space for cold characters with a seared conscience; chancing scavengers with no scruples. When did Hichilema ever say anything good about Mwanawasa while he was alive? Did the departed President ever hear anything good said about him by Hichilema?
The following excerpt from the late President Levy Patrick Mwanawasa shows how "Levy" as he was fondly called perceived Hichilema as a cheat with questionable ethics and a person that could not be trusted. The following excerpt is from the book "Levy Patrick Mwanawasa: An incentive for posterity". The Book was written by Amos Malupenga and edited by Professor Fackson Banda. The book on pages 211-212 gives some candid insight on Hichilema's duplicity:
As part of his overall theme of non-partisan politics, Mwanawasa recalled an incident in which he first met Mr Hakainde Hichilema at State house before he became president of the United Party for National Development (UPND). He was brought to him by Mr Costain Chilala, the prominent Mkushi farmer. This was sometime in February, 2006, the year in which Anderson Mazoka died. Hakainde, as a member of the business community, had a specific business issue to raise with Mwanawasa.
Mwanawasa recounted the incident:
He said he had been disadvantaged from government contracts because people were saying that he was a member of the opposition UPND. He said he was not a politician, he was a businessman. He asked me to treat him that way. I told him, 'My Government does not discriminate on political or tribal lines.' I said, 'We will give you a job because you are capable of doing it.'

Hakainde said, 'When I decide to join politics, I will come and join you in MMD because I am quite happy with the way you are leading this nation.' He said this over lunch at Nkwazi House.

I said 'Thank you very much for that show of confidence, but I want you to feel that whether you are with us or not, to me you are a Zambian entitled to anything you want which the government is able to give you. But I am glad at your show of confidence that if you should want to come into politics, you will think of joining me.'

Two months later, Mr Mazoka died. There was talk that Hakainde Hichilema was being considered to take over from Mazoka. Initially, he was refusing, then he eventually agreed. He didn't even have the audacity to come and explain himself to me. He didn't have to, but I don't know why he gave me the assurance that if the time came for him to join politics, he would rather be with me.

I regret the fact that we are opponents. I have a lot of respect for that young man. He could have played a very pivotal role in the governance of this country. But he has to be trained. I would have been happy to provide counsel so that he is moulded into a true leader. His understanding of politics is that it doesn't matter; you can cheat, provided you get your goals.

The problem Mr Hichilema is having now is the fact that he wants to cheat, to mislead, to show that he is what he is not.

When some people alleged that he could not assume the UPND leadership because he was a newcomer, he said it was not true because he was one of the pioneers of UPND, that he started UPND with Mazoka and other people…But when he came to me with Chilala to Nkwazi House, he said people were saying he was UPND.

So those rumours that I tried to court him as my successor were not true because I was meeting him for the very first time. I didn't know him before. Of course, I was impressed talking to him. I made enquiries about what he had been and I was impressed that I needed such young people to work with.

But I accepted that he was in business and didn't want to come into politics. That's why I never even thought of enticing him. But the moment he decided to succeed Mazoka, if at that stage he had come to me to say. 'I no longer want to remain just a businessman, I want to go into politics', I would have received him. Not that I would have made him my successor but I would have received him. If he wanted to succeed me, he could have competed with everybody else.

And in my view, he is wasting his talent in opposition politics. It's too late for him to join me. I am going out in the next three years and I don't want to decide which people the party should work with at the top level. It will be up to the incoming to lead us to consider that position.

But I consider Hichilema's case to be a very unfortunate one…
Hichilema and his shrinking supporters called the late President all sorts of names and refused to work with him when he was alive. He abused the late President Mwanawasa when he was alive by constantly attacking his performance and personality.
There is nothing good a bitter man who grouches for a living can say about anybody except when they are departed and he will only do so for his own political aggrandizement. There is also nothing good Hichilema can say about the PF-driven development even when he drives on it and Zambians across the nation benefit from the massive development across all sectors. He arrogantly believes he is wiser than the collective wisdom of the Zambian people.
The late President Mwanawasa was a discerning man and he candidly called out Hichilema's selfishness and opportunism.
President Mwanawasa regretted that Hichilema held so much promise but was not truthful and he felt that he missed a great opportunity to work with him. Why then should Hichilema seek to work with the legacy of a man he despised while he was alive?
The legacy and memory of the third President of the Republic of Zambia Levy Patrick Mwanawasa must be honoured and respected. Scavenging opportunists must keep away. They sully everything they touch; even sacred things.
While he calls PF, since the days of the Michael Sata Presidency to date as Chimbwi-no-plan, truth be said, Mr. Hichilema was a cheat ten years ago he is a cheat today and will continue to be cheat tomorrow.
The author is the PF Media Director At the Patriotic Front Secretariat In Lusaka
[Read 569 times, 1 reads today]