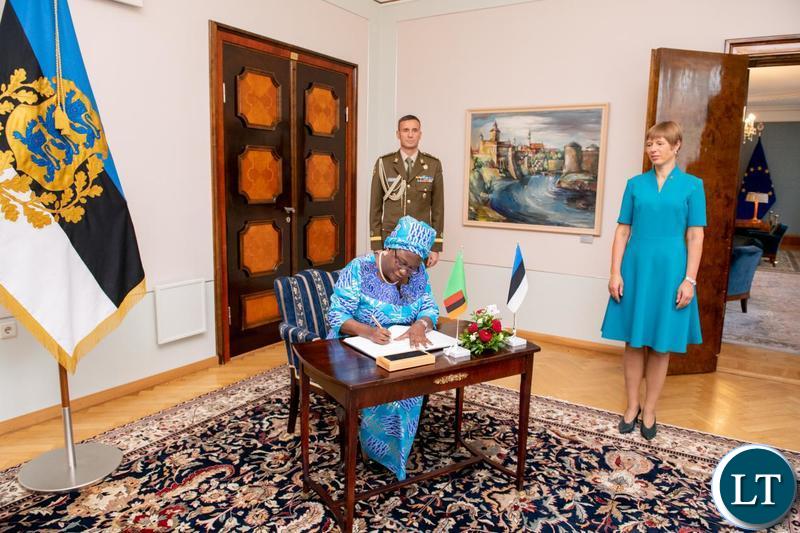 ESTONIA has hailed the warm political relations with Zambia which are reinforced by the two countries' shared values in peace and security.
Estonia's President, Her Excellency Kersti Kaljulaid has observed that Estonia and Zambia enjoyed good political relations that could be attributed to the shared values in which both countries believed that security was an important element of development.
Her Excellency Kaljulaid has noted that both countries had contributed to creating peace and security outside their borders with Estonia, through the United Nations (UN) and the African Union (AU), having had participated in peace keeping missions in the Central African Republic and currently working with the French troops in Mali.
Meanwhile, the two countries have, however, bemoaned the lukewarm economic cooperation between them and pledged to work towards establishing stronger ties that will economically benefit the two countries.
The observation on the lukewarm economic relations came to light during meetings with senior Estonian Government officials soon after Zambia's Ambassador to Estonia, Her Excellency Ms. Rose Salukatula presented her credentials to President Kaljulaid. Ambassador Salukatula represents Zambia in Estonia on non-residential basis.
President Kaljulaid informed Ambassador Salukatula that Estonia had launched its campaign for the non-permanent seat at the UN Security Council and were relying on support from "friendly countries like Zambia."
In response, the Ambassador pointed out that Zambia had remained a beacon of peace and stability and continued being one of the best examples of a democratic nation on the African Continent.
She said Zambia has been a safe haven for refugees and other foreigners from its neighbours and other countries on the continent and beyond.
The Ambassador also informed the President that Zambia has taken up the Chair of the SADC Organ on Politics, Defence and Security Cooperation which she said would help the country carry on with its values of pursuing peace and stability in the region.
The envoy has also invited the Estonian business community to explore Zambia's investment opportunities. She said Zambia offered a stable and predictable business environment with a fiscal regime that conformed to international best practices.
The Ambassador encouraged the Estonian business community to explore business opportunities in Zambia, especially in e-solutions.
She said Zambia had achieved a lot in the information and communications technology sector over the past decade but still faced challenges arising from high costs, inadequate infrastructure and lack of local skills in order to grow more.
Ambassador Salukatula pointed out that Zambia admired the achievements that Estonia had made with its e-solutions and that cooperation between the two countries in this sector would benefit the people of Zambia as they would be able to openly communicate, create new employment possibilities, and support government's institutions, especially with the Smart Zambia initiative.
The Ambassador further said that Zambia had taken note of Estonia's campaign for the UN Security Council Non-Permanent seat and hoped that the east European country would get the required vote.
And during a subsequent meeting with Ambassador Salukatula, Estonia's Minister of Foreign Affairs, Mr. Sven Mikser noted that despite the small population, his country has managed to register itself as a net exporter of various e-solution platforms to the world.
Mr. Mikser has invited the Ambassador and other Zambian IT experts to Estonia's Annual e-Conference in May next year to share in the country's advanced information technology.
Estonia has been identified as one of the world's advanced digital societies which has built an efficient, secure and transparent system that saves time and money.
Ambassador Salukatula noted that while political cooperation was relatively good, there had been no economic activity between the two countries. The Ambassador reiterated her call for more economic collaboration.
In a separate meeting, Special Diplomatic Representative of the President of Estonia UN Security Council Task Force, Ambassador Daniel Erik Schaer, said Estonia believed that all UN members should have the opportunity to participate in creating stability and security through Security Council membership.
Ambassador Schaer said Estonia's ambition as a small country, was "to bring a small state perspective" and act as an advocate for common interests in the activities of the Security Council.
The two diplomats discussed opportunities for improving bilateral relations and possible areas of cooperation with Ambassador Salukatula emphasising on Zambia's keenness to learn digital development from the Estonian experience of e-governance and e-solutions.
The Zambian envoy welcomed Estonia's UN Security Council candidature noting that this would benefit a lot of member states.
Ambassador Schaer had visited Zambia in May this year with the message of Estonia's candidature for the UN Security Council Non-permanent seat for the period of 2020 – 2021.
Ambassador Salukatula also had meetings with Mr. Mart Nutt, Estonia's longest serving Member of Parliament; Head of European Union and International Development in the Ministry of Education and Research, Mrs. Kristen Lahtein, and Counsellor for Zambia under the Ministry of Foreign Affairs, Mr. Jaanus Varu.
Mr. Nutt has served in all the seven parliaments since Estonia regained its independence in 1992.
The meeting with Mrs. Lahtein, focused on the education systems in the two countries during which the Zambian envoy learnt that Estonian education system had performed at a consistently high level on the Programme for International Student Assessment (PISA) tests since 2006 and ranked third to Finland and Singapore. Mrs. Lahtein extended an invitation to the Ambassador for an opportunity to visit their education facilities and see the Estonian experience.
Ambassador Salukatula pointed out that Zambia still faced challenges with information technology in the education system because of lack of infrastructure and facilities and that the country could benefit through cooperation with Estonia.
Apart from discussing possible opportunities for co-operation in the sphere of e-governance and digital solutions, Mr. Varu informed the Ambassador that Estonia had a long tradition in producing milk and meat products. The Ambassador expressed Zambia's desire that economic co-operation between the two countries be extended into other sectors, especially the agricultural sector.
She said Zambia was diversifying from mining and that the country could benefit from Estonia which had the skills and experience in agriculture in order to convert subsistence farmers into commercial farmers.
She also informed Mr. Varu that the Embassy in Stockholm was organising an investment seminar in October and extended an invitation to Mr. Varu and the Estonian business community.
This statement was released to the media by Nicky Shabolyo, the Counsellor at the ZAMBIAN EMBASSY IN SWEDEN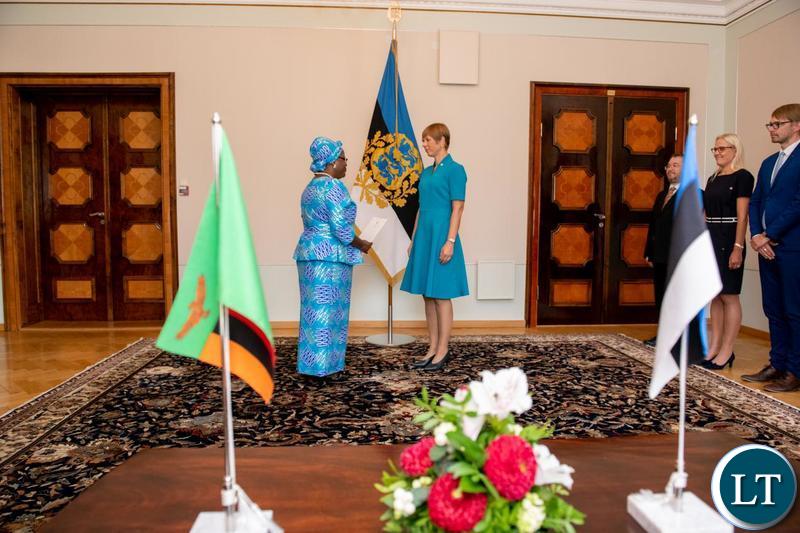 [Read 100 times, 1 reads today]