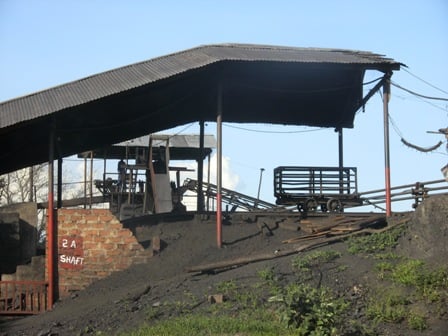 One person has died while three others cheated death at the Column Coal Mine Industries Limited in Sinazongwe District during their operations of loading coal into trays underground.
Column Coal Mine Industries Limited underground manager Elvis Ng'andu confirmed to Sinazongwe District Commissioner Protacial Mulenga that the accident occurred around 16:30 hours on Wednesday at shaft six involving the loss of one employee while three others survived.
Mr. Ng'andu said the deceased Levy Siamaili aged 25 years of Vwavwa village in Sinazongwe District died while on duty when a rock
dislodged from the roof of the tunnel and fell on him.
He said that the three other miners Nelson Mansangu, Manuel Siachiyumu and Clement Siamaili survived and operations at shaft six have already been halted and the site closed awaiting mine inspectors to go and determine the cause of the accident and whether it would be fit to continue with mining operations there.
The underground manager said the deceased employee was on a two year contract and he is survived by one wife and two children.
He said the mine company will meet the funeral expenses and process all his dues that shall be paid to the administrator for the family members.
Mr. Ng'andu said the death of Mr. Syamaili was a big blow to the company.Sinazongwe District Commissioner has expressed sadness towards the loss of life at the Column Coal Mine in such a tragedy accident.Mr. Mulenga has since sent his heartfelt condolences to the bereaved family and urged them to remain calm and united during this trying moment.
He said Government was very much concerned with the welfare of workers even in the mines and eager to ensure that safety is provided in
accordance with the mining regulations.The Commissioner called on the mine company management to ensure that safety measures are adhered to without fail in order to minimize further accidents.
[Read 144 times, 1 reads today]