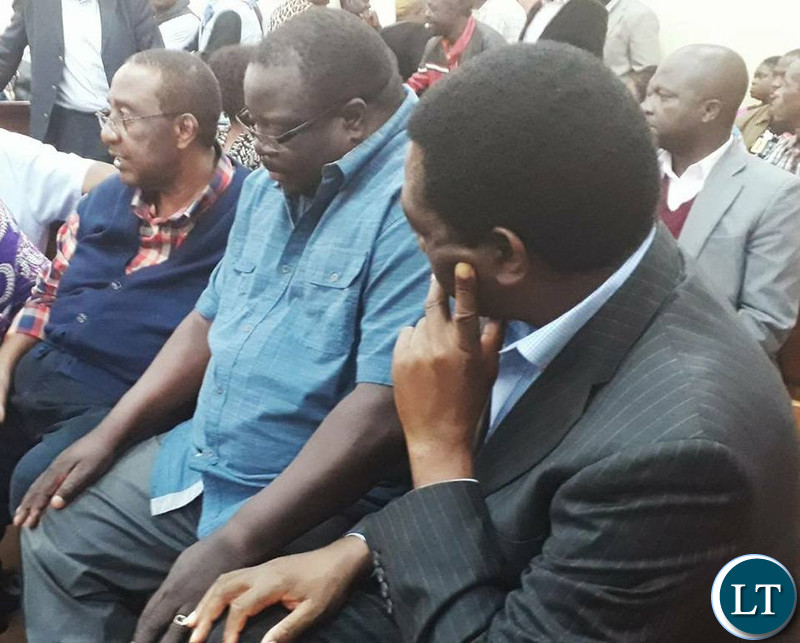 Lusaka magistrate, Nsunge Chanda has told Roan Member of Parliament Chishimba Kambwili that he will represent himself at the next hearing if his defence lawyers will not be present.
And Ms. Chanda refused two of Kambwili 'S defence lawyers from cross examining the witness on stand Chilufya Tayali because they were not present when he was led in his chief in examination at the last sitting.
This is in a matter in which Mr. Tayali asked the court to institute contempt proceedings against Mr. Kambwili for allegedly tampering with evidence before court relating to Mwamona Engineering Technical Services Limited.
After the examination of Mr Tayali by defence lawyer, Keith Mweemba , deputy chief state advocate, Margerate Chitundu sought to have the case adjourned to October 16 .
But three defence lawyers, Keith Mweemba, Gilbert Phiri and Zevyanji Sinkala informed the court that they will not be present on that day as they will be appearing before the High Court .
And in her response Magistrate Ms. Chanda said it is not her problem as the court had already set the date of October 16 prior to today's session.
She informed Mr. Kambwili that if his lawyers will not be present she will proceed with trial and the alleged contemnor will have to represent himself.
And during trial, Equity for Economic Party Leader Chilufya Tayali has told the Lusaka Magistrate's Court that at no point did the NDC Consultant Chishimba Kambwili presented any uttered documents before honourable David Simusamba's court but that does not mean he did not tamper with the documents at PACRA.
This is the matter in which Kambwili is accused of tampering with evidence in a case in which the latter is facing three counts of forgery, uttering false documents and giving false information to a public officer.
Tayali who is a key state witness said this when he was being cross examined by Kambwili's lawyer Keith Mweemba before Magistrate Nsunge Chanda.
The Witness says it is for a fact that Kambwili did not present any uttered documents before Magistrate David Simusamba's Court were he is facing three counts of forgery, uttering a false document and giving false information to a public officer but the accused uttered with the documents which were the board resolutions signed by the accused as chairman of the meeting that sat to utter the the records at PACRA.
Mr Tayali has maintained that the fact that Kambwili had chaired that meeting confirmed that he caused the alteration of the documents even though he did not physically file them at PACRA.
"By the fact that he chaired the meeting that resolved. I confirmed that he chaired because the board resolutions were filed with other documents at PACRA which counsel brought out when I was being cross examined," he said.
"Sometimes, like in this case, people made a resolution to file documents at PACRA but they did not themselves to PACRA to file the documents. However they sent someone else to go and file. And from my knowledge this agent acts on behalf of the people that have sent him. Therefore in as much as they did not go to file physically by themselves I concluded they filed in the documents to utter the records at PACRA."
The EEP Leader has further said he had lodged the complaint against Kambwili because the records from PACRA that he was shown by the police, were different from what he had testified earlier in magistrate Simusamba's court.
Mr Tayali adds that he was concerned because if anyone went to PACRA to get a print out of the records, they would be different from what he had testified earlier.
The matter has since been adjourned to October 16 for continuation of trial.
[Read 115 times, 1 reads today]