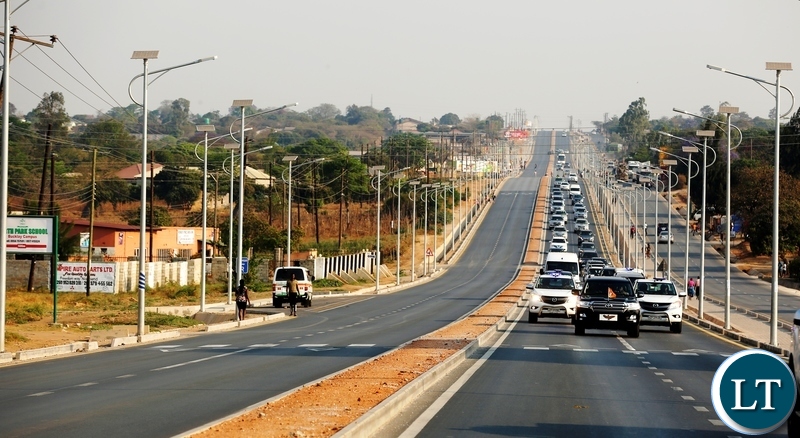 In line with government's programme to decongest Lusaka, road expansion and construction of fly over bridges at a cost of US$290 million have progressed and are expected to be complete by December 2021.
The project which is being done by Afcons, an Indian construction company, is aimed at reducing congestion in the capital city and will see the construction of four fly-over bridges, five junctions and expansion of selected roads.
ZANIS reports that the project which is being financed by Export-Import (EXIM) Bank of India with 85 percent and the 15 percent from government of Zambia, once completed will make Lusaka become come one of the modern cities in Africa.
Minister of Local Government Vincent Mwale who conducted a spot check on the works today has expressed satisfaction with the quality of works that has being done so far on the project.
The Minister was speaking in Lusaka today, after touring some selected roads and the construction site of the flyover bridges.
" Currently it is difficult to do business in Lusaka as people have to spend a lot of time their productive time on roads due to congestion.
" This is why government will remain committed to ensuring that the situation is changed through the Lusaka master plan, " the minister said.
.
The three-year project will see the construction of ring roads from Makeni to Mumbwa Road, and further connect to the Great North Road after National Heroes stadium to make Lusaka a smart city.
Great East Road from Arcades to Lusaka central business district will have two lanes on the fly-over bridge, while the existing four lanes will be expanded to six lanes.
Afcons Infrastructure Limited Project Manager Subrata Banyopadhyay who disclosed this to the minister said that the company is committed to complete the project within the set time frame.
He also pledged to respect labour laws and that the company's labour force consists of over 85 percent locals adding that it will only import labour that cannot be sourced locally.
The Lusaka city decongestion project started in September 2018 and are expected to be completed by December 2021.