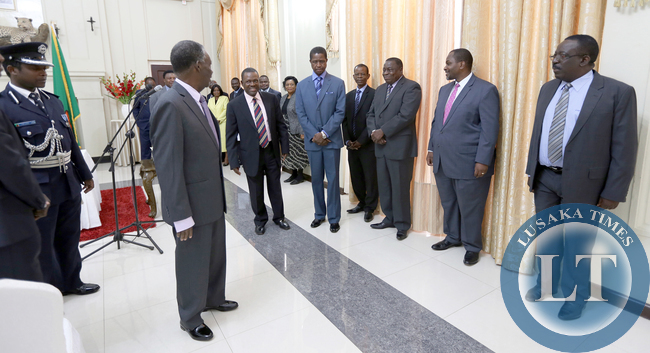 APC president Nasson Msoni says late Republican President Michael Sata was on point when he described his ministers as useless saying the goings on in the current government under the leadership of one his ministers is nothing short of a disaster.
In a statement issued to the media the APC leader said the current crop of leaders in government is the worst that the country has seen since independence.
The outspoken opposition leader wonders what the late President saw in the then justice minister Edgar Lungu for him to leave the country in his charge.
"President Micheal Chilufya Sata has been vindicated when he said his Ministers where useless. There is no better description for the current terrible state of affairs in the nation than that of a national disaster.
"Mr Edgar Lungu's cabinet is certainly the worst this Country has ever had since independence.
"I don't understand his reasoning and judgement, surely he did not expect that by picking the worst among the most useless characters he would succeed in running an effective government," he said.
Msoni observed that the current crop of ministers lacked conviction to save the interest of the masses but that they are using government to enrich themselves.
"Leaders lacking ideological and political convictions are not expected to be responsive to the needs of the people rather than just using government for personal aggrandizement and abusing state resources.
"Leaders who are ideologically bankrupt always tend and strive to compensate this deficit with unparalleled looting and theft of public resources without any sense of restraint and shame," he explained.
He warned against voting for people based on political euphoria because they turn out to be bad for the people who vote for them.
"Governments which are a product of a political euphoria are bad governments because this is the conduit that brings the chaff and all non-vetted criminal elements into government.
"The critical shortage of political talent in the country is so apparent going by the dismal performance of the PF government.
"A good leader is one that harness and identify talent without fear or a sense of insecurity for his own future," he said.
Msoni adds "Zambia is in this despicable state because the best among us are either shortchanged,blacklisted or outmaneuvered to pave way for the worst characters for the sake of servicing loyalty to the appointing authority.
Sometimes those with the necessary skills are ruthlessly shunted or deployed into foreign service not in good faith but to put them out of visibility and possible talent identification by the masses. This is exactly the downfall of our Country."
[Read 117 times, 1 reads today]