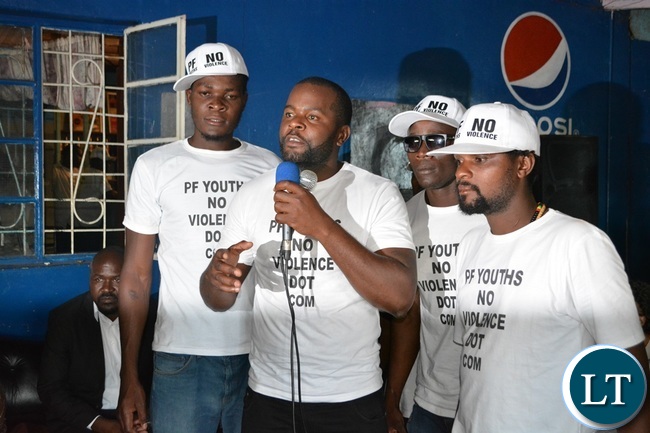 The Patriotic Front (PF) has urged those vying for the Lusaka Provincial party Chairmanship to desist from campaigning on tribal lines. PF media Director Sunday Chanda has said that the sentiments in a video by PF Member Maxwell Chongo where he is alleged to have been campaigning on tribal lines does not represent the spirit of the PF.
Mr Chanda said that the PF is an all-inclusive party founded on the principle of One-Zambia One-Nation, adding that the constitution of the party and the party leadership do not support acts of tribalism and regionalism.
Mr Chanda further said that he expected all candidates and officials to anchor their campaign messages on the Party President's consistent message of 'One Zambia, One Nation', saying that he the PF expects Mr. Chongo to retract his statement.
Mr Chanda added that provincial aspiring candidate Geoffrey Chumbwe should also distance himself from Mr. Chongo's alleged statement.
Below is the full statement
TRIBALISM AND REGIONAL VOTING IS NOT PF STYLE; LET'S LEAVE THAT FOR THE UPND- THEY ARE MORBIDLY ACCOMPLISHED AT IT
By Sunday Chilufya Chanda
We note with concern that there is a video currently circulating that was purportedly recorded from a meeting organised by Lusaka Province Chairman hopeful Mr Geoffrey Chumbwe where Mr Maxwell Choongo, a Party official in the Chongwe structures is heard promoting tribal voting.
The sentiments expressed in the video do not conform to the tenets and principles of the Patriotic Front (PF).
PF is an all-inclusive party founded on the principle of One-Zambia One-Nation. Tribalism and Regionalism are therefore diametrically opposed to the values and ideals of the Party.
Article 15 (1) (g) of the Patriotic Front constitution is one of the many clauses that are very categorical in abhorrence of tribalism, nepotism and regionalism. It states:
It is the obligation of a member of the Party, to fight against all manifestations of… Tribalism, Regionalism… Nepotism, Racial discrimination …
Article 74 (24) under the subtitle "Quality of Leadership" is also very categorical where in the PF Constitution states:
"A Party leader must never use his official position for his own personal gain or private benefit, nor practice favouritism, nepotism, tribalism …"
We consequently wish to caution those vying for elective offices in the Party to desist from promoting tribal and regional politics.
All candidates and officials are expected to anchor the President's consistent message of 'One Zambia, One Nation'.
We therefore call upon Mr Choongo to retract his tribal sentiments and we equally expect the Provincial aspiring candidate Mr Chumbwe to distance himself from tribal alignments and tribal voting.
We can all learn from the chronic woes and misery of our brothers and sisters in the United Party for National Development (UPND) that stemmed from similar tribal talk. Let all be reminded that it is such tribal and regional voting sentiments that killed Mr Hakainde Hichilema's political career even before it was born.
Hichilema's introduction after Mazoka's death in 2006 was blatantly tribal. The UPND proclaimed that only a Tonga could replace a Tonga to lead the party; so they deliberately overlooked the hierarchy with such notables as Sakwiba Sikota, Patrick Chisanga and Bob Sichinga and they picked Hichilema – a nondescript individual who was not even in the party structures at the time, just because he was Tonga.
Tribalism has since become embedded in the DNA of the UPND and the party with its leader have struggled to rid themselves of the tribal and regional plague since then. As a result, the person they picked on tribal lines has been punished 5 times at the ballot box since 2006.
The UPND tribal style is not the PF style. God forbid! Tribalism and Regionalism are alien to PF. Zambians find tribalism to be highly repulsive.
Mr. Chumbwe and Mr Choongo could take a leaf from the PF founding father late President Michael Chilufya Sata and his successor His Excellency President Edgar Chagwa Lungu's inclusive and non-tribal style of politics.
We know Mr Chumbwe and Mr Choongo have it in them to do the right thing.