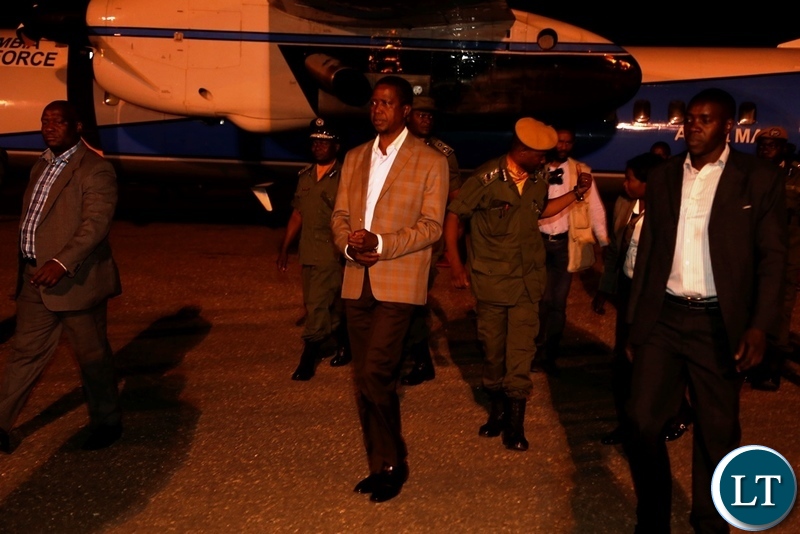 President Edgar Lungu says the loss by the Chipolopolo to the Mozambican national team is disheartening. President Lungu urged the Chipolopolo Boys to go back to the drawing board and mend the gaps that are associated in soccer. He has since urged the technical bench to assist the Boys in handling football techniques.
President Lungu told Journalists upon arrival at ZAF City Airport in Lusaka last evening from Western Province from a two day working visit.
"Zambia's loss to Mozambique is disheartening not only to me but the aspirations of Zambian people. Probably, the Chipolopolo Boys needs to go to the drawing board. We leave it to the technocrats or experts to tell us what next," President Lungu said.
Zambia was yesterday ejected from the Cameroon 2019 African Cup of Nations, AfCON. The Mambas beat Chipolopolo 1 – 0 in the 2019 AfCON qualifier held in that country. Mozambique moves to seven points while Zambia remains at four in Group K respectively.
The Zambia Air Force (ZAF) plane carrying the Head of State touched down at ZAF City Airport at 18-45 hours local time. Whilst in the province, President Lungu held talks with the Litunga, King of the Lozi speaking people. Mr. Lungu also travelled to Kaoma where he also met other traditional leaders among them Chief Mweene Mutondo of the Nkoya people.
Mr. Lungu later in the day addressed a public rally in Mangango where he drummed up support for PF candidate, Godwin Putu ahead of the November 20 Mangango parliamentary elections. Mr. Lungu has since described the Mangango political campaigns as peaceful.
Four candidates are contesting the seat which fell vacant following the death of Naluwe Mweene who died in a road traffic accident in August this year.
PF adopted Godwin Putu while, the United Party for National Development (UPND) has settled for Mwendoi Akakandelwa and Singumbe Kabindama is standing on the United Prosperous and Peaceful Zambian(UPPZ) party.
Yuvwenu Kashandola is contesting on the National Democratic Congress (NDC) ticket.
He was received at the City Airport by Home Affairs Minister Steven Kampyongo and his Lusaka counterpart, Bowman Lusambo, defense chiefs, senior PF Central Committee members as well as senior government officials.