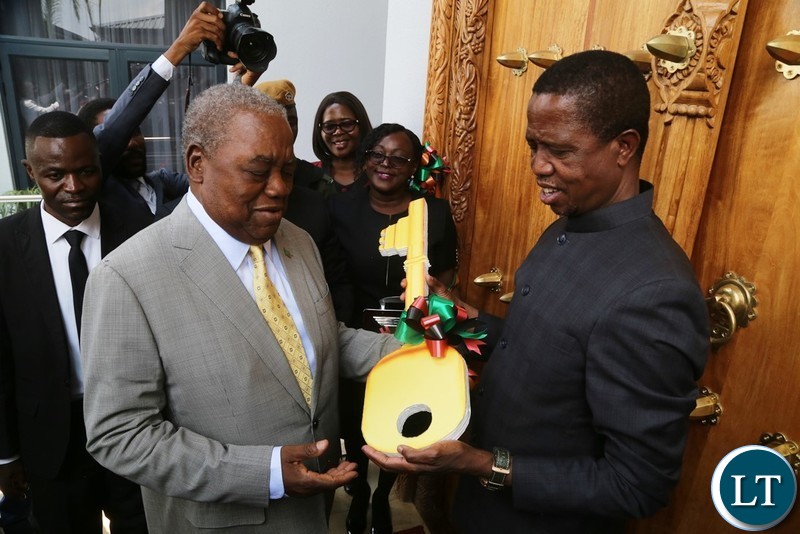 PRESIDENT Edgar Chagwa Lungu has called for a law that will promote equity for all retired leaders noting that a lone President does not run government.
President Lungu also reiterated that successive governments should not build him a retirement home even though it is his constitutional right.
"Further I wish to reiterate my earlier pronouncement that government will not build me a retirement house even though it's a constitutional requirement," President Lungu said.
"And going forward we will scrap this law because I have seen that equity does not seem to be applied when you are dealing with retired leaders." he said
He said the success contributed to Zambia by our leaders was not personal but that of a collective college.
The Head of State said both First Republican President Dr Kenneth Kaunda and Fourth Republican President Mr Rupiah Banda had deputies but where are they in the picture of retirement.
President Lungu said this when he officially handed over the retirement house to fourth Republican President Rupiah Banda in Lusaka's Makeni area.
He thanked the former President for accepting the official handover of the house and apologized for the delay which he has attributed to circumstances beyond the control of Government.
The President stated that it is the duty of Government to ensure the welfare of former Presidents is taken care of.
He said the house will enable the former President to continue playing an important role of providing good counsel to Government and other Zambian citizens.
And Mr. Banda has expressed gratitude to President Lungu for the construction of the house and for showing his great personal interest from the start to completion of the project.
He said President Lungu went out of his way to accept his proposals on how to go about constructing the retirement house such as choosing his own architect.
And Housing and Infrastructure Development Minister Hon. Ronald Chitotela recognized the remarkable leadership of President Edgar Lungu that will remain to inspire generations to come.
He said through Leadership President Lungu has demonstrated the importance and need to respect, honor, Cherish and treasure leaders that are and were given the privilege to superintend over the affairs of this nation.