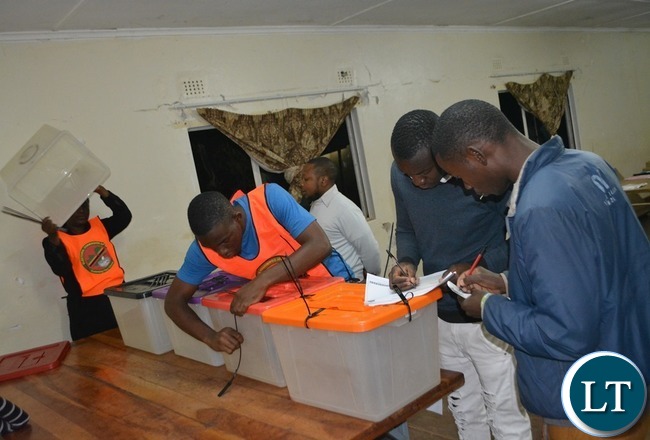 The Commission of Inquiry into Voting Patterns and Electoral Violence has closed its countrywide public sittings in Lusaka Province.
Commission Chairperson Munalula Lisimba officially closed the hearings in Chawama Constituency yesterday.
Justice Lisimba expressed happiness with the quantity and quality of the submissions countrywide.
He has since thanked the people of Zambia for their contributions to the commission.
And a petitioner Andsen Banda 61, a business man, submitted that the Electoral Commission of Zambia (ECZ) was not professional in the manner it handled the 2016 elections saying there were irregularities.
He added that the playing field was not levelled.
And Leonard Kapungu aged 63, submitted that violence is caused by political parties who heavily fund political cadres to engage in the vice.
Mr Kapungu said most cadres are unemployment and that are instigated to get money from political leaders who fund them during campaigns.
He added that the cadres are forced to engage in violence for survival purposes as they are not employed.
He said character assassination by supporters of political party leaders was the order of the day a situation which he said was regrettable.
Meanwhile, the Commission will week hold special sittings for the Founding Fathers and Mothers and other senior citizens of Zambia.
The Munalula Lisimba-Led Commission was instituted to inquire among other matters into the voting patterns between 2006 and 2016 and establish the root causes of the patterns.
Furthermore, the Inquiry was also mandated to establish the role of political parties, traditional rulers, and the media in shaping voting patterns and instigation of violence among others.
President Edgar Lungu instituted the commission in October 2016 and through Statutory Instrument No. 60 of 2018, in exercise of the powers contained in section 3 of the Inquiries Act, extended the mandate of the Commission to 31st December, 2018 to conclude its work.
Prior to the extension, the Commission had by 30th June, 2018, covered eight (8) out of the country's 10 provinces to receive oral and written submissions from members of the public.
[Read 507 times, 2 reads today]