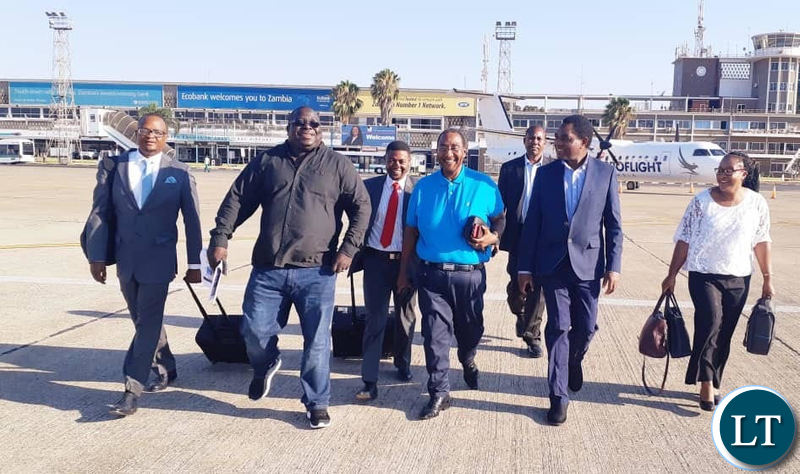 United Party for National Development(UPND) has rubbished stories that a rift has emerged between the party President Hakainde Hichilema and the Vice President Geofrey Mwamba.
In a statement released to the media and signed by Senior Presidential Advisor and UPND MP Douglas Syakalima, the party said that it is not true that the Mr Hichilema has instructed party members to hound out GBM from the party.
Below is the full statement
HH, GBM REMAIN BONDED, UNBREAKABLE PAIR
As UPND, we are deeply distressed by the divisive statement by a Mazabuka. based Tabloid Zambian Star in which it insinuates bad blood between President Hakainde Hichilema and his Deputy Geoffrey Bwalya Mwamba.
We wish to strongly refute claims by the tabloid that President, Hichilema has "instructed UPND leaders and members to hound out his Deputy from the UPND".
From the allegations put forth by the Zambian Star, it is very clear that the owners are likely to be working under instructions to try to cause mistrust between the two leaders after failing to break them down using hate , accusations, arrests and intimidations.
President Hichilema would never allow for such a trend of rumour mongering, use of uncivilized and unpalatable language against another individual for political expediency.
We must also not ignore that Dr. Mwamba is a man of principles and his choice to work with President Hichilema was made on the basis that he believed and shared the vision of his President, brother and friend which is for a better and equitable Zambia for all and as a party we believe and rightly so that makes the two a winning pair already endorsed by members across the country.
We want to inform the nation and the Zambian Star that the two UPND leaders share an iconic friendship based on mutual understanding and respect, honesty, aimed at making life better and fostering national unity and development.
It should also be noted that the decision to have GBM both as party Vice President and Presidential running mate was not an after thought, but a decision drawn by the party from a deeper understanding of the quality, value and principle that he brings onto the political scene.
Such negative schemes shall never break the party nor the two leaders in their resolve to seek a better Zambia for all people regardless of their economic and social status and we as a party call on the media to exercise self restraint and responsibility in its reportage.
UPND members across divide are happy and satisfied to have them as candidates in any foreseeable election because of their agenda for a better and united Zambia.
We have only one country and it is our duty together with the media to ensure that we remain United for posterity.
*Remember it is:People Power,Our Power,Our Land*
Issued by:
Douglas Syakalima* (Hon)
Senior Presidential Advisor-UPND
[Read 5,567 times, 1 reads today]