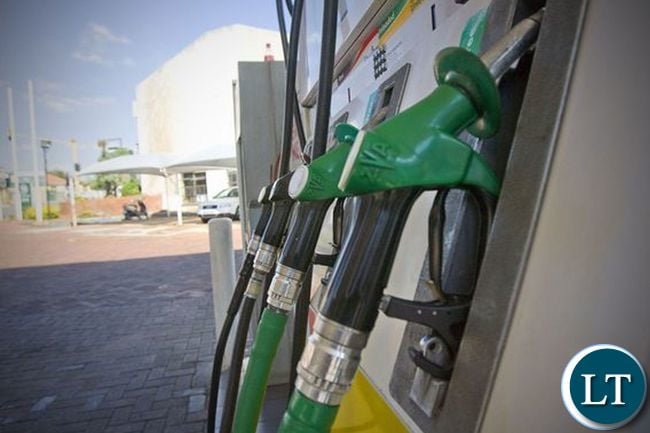 The Energy Regulations Board has determined that there will be no adjustment of fuel prices in December 2018.
ERB Board Chairperson Raymond Mpundu said the pump prices per litre for petroleum products will remain at K16, 06 per liter for petrol, K14, 65 per liter for Diesel, K11, 34 per liter for Kerosene and K16.94 per liter for Low Sulphur Gas.
Mr. Mpundu said Fuel prices in Zambia are largely determined on the basis of two factors namely international oil prices and the exchange rate of the Zambian Kwacha against the United States Dollar.
He said in Zambia, the Energy Regulation Board uses the Cost-Plus Model to determine wholesale and pump prices and these prices are reviewed only after each importation has been fully consumed.
"In November 2018, the Government of the Republic of Zambia imported 100,000 metric tons of petroleum feedstock cargo, at a total cost of US$74.40 million. In addition, Government imported finished petroleum products amounting to 29,569.69 metric tons and diesel amounting to 71,461.48 metric tons, at a total cost of US$77.88 million", He said.
He said during the period of importation, in mid-November 2018, the Kwacha was still depreciating while international oil prices were still relatively high.
Mr. Mpundu however said beyond the period of importation, there was a slight appreciation of the Kwacha and a notable drop in international oil prices that they had and no fuel was imported.
He said the general fall in international oil prices in the period under review was mainly attributed to the excess oil supply and high oil inventories.
Mr. Mpundu said oil prices have however remained unpredictable and are on the upward trend.
"Since the importation was done at the time when the two fundamentals that determine fuel pricing were still unfavourable, the notable improvement, thereafter, could not influence a price reduction.
[Read 2,716 times, 1 reads today]