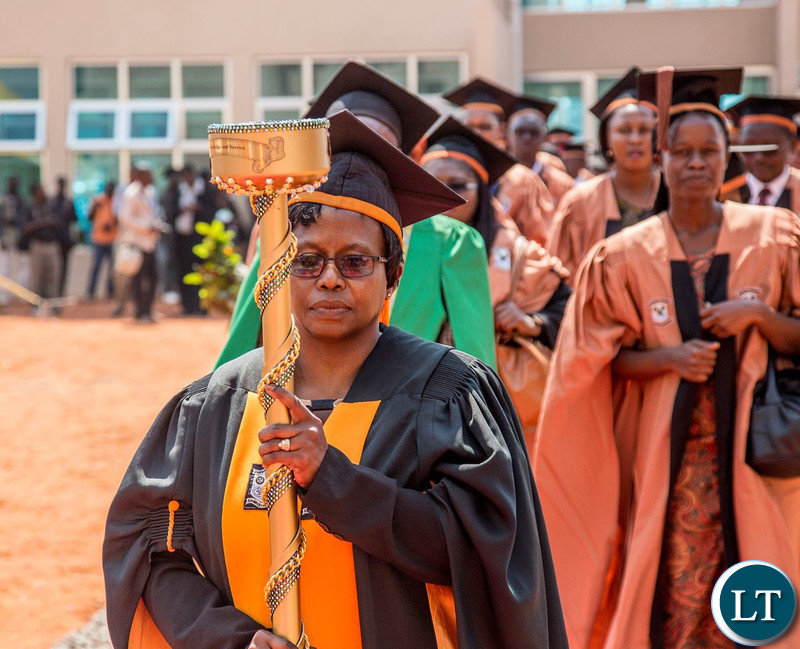 By Isaac Mwanza
While the Patriotic Front administration under both late Michael Sata and President Edgar Chagwa Lungu has done a marvellous job to meet increasing demand for secondary school education by building 115 new secondary schools and upgrading 455 primary schools in needy areas into secondary schools, not enough has been done to promote greater access to tertiary education. Although there has been a boom in private universities and colleges in Zambia, these are largely driven by profits and dividends than provision of quality education.
A picture of Zambia's higher education
The 2018 statistics show that Zambia has a youth population of 4.8 million aged between 15 and 35 years. In 2017, student enrolment in public universities and technical education, vocational and entrepreneurship training (TEVET) institutions stood at 58,442 and 39,802, respectively. Of the 98, 244 enrolled students, 25,128 university and TEVET students were supported under the loans and scholarships board, the TEVET bursary, the skills development fund and the support to science and technology project.
Although public universities and TEVET only managed to have a combined total of 98, 244 students in 2017, our secondary schools offload a total of over 120,000 potential students every year. In 2017, a total of 132, 841 students sat for examinations.
The majority of Grade 12 School levers in Zambia do not find their way into public universities and TEVET institutions or have to wait a little longer before they could enrol. Some get to enrol as mature students – not because it was their wish to delay attainment of higher education but because of circumstances that could not have allowed them to when they were 16 to 24 years. Of course, acquisition of education in Zambia is not a matter of a justiciable or constitutional right.
There are many reasons for this situation but largely because of limited places for university education but also that university education is not very affordable to most children coming from poor or low-income families. As seen from the numbers of students on grant and loan support services, only about 25,000 students are beneficiaries. As government focuses on provision of basic education, university or college education is progressively becoming a privilege for young people from rich and well-to-do families.
Undoubtedly, there is a market in Zambia for higher education, with the same commendable energy that government that government has undertaken developmental projects in the road and health sector, the PF can leave a mark if it paid more attention to higher education.
What can the PF Government do?
The Lungu administration must consider investment into continued building of universities, same way the PF founding leader, late Michael Sata, had initiated building of universities after an almost 2 generation without such an investment.
Firstly, government must take advantage of the available market for higher education to make an investment that is self – sustainable but running parallel with the current system where government supports those who cannot afford the higher fees. For example, instead of building a wall in the Trump-like fashion, the University of Zambia has plenty of space upon which Government can build new lecture halls and hostels for full fee-paying higher education (The ZICAS model) without loans and grants. Provided that high class education is offered, with available qualified lecturers, people will enrol and get the education.
Government cannot fail to find a financing partner to undertake the building projects of more public universities that may be run based on the PPP model. Those malls and shops Government gas allowed to be built on the UNZA land are not adding value to educating our people
Professor Nkandu Luo, don't build the university wall. Build classroom blocks, hostels and universities.
Secondly, the bigger problem with higher education is unregulated fees from one institution to another. Government must get into the ring and begin to regulate fees for both private and public universities while working at making education affordable to poor and marginalised students.
Thirdly, the mushrooming of private institutions of higher learning has seen an increase in "makeshift" colleges offering degree and diploma programmes at a relatively low fees albeit having unqualified lecturers and academic staff. This has made our students to focus on acquisition of a paper called degree or diploma and not necessarily knowledge and skills. Our makeshift colleges are thus producing half-baked graduates, for instance, teachers who later become custodians of our children children's education. This has a lifetime effect on the kind of future managers and leaders our country will have.
Fourth, the high rate of student drop-out and failure at the Zambia Institute for Legal Advanced Education (ZIALE) offers another insight into how disconnected programs offered by different universities are from practical education in the real world. In the name of academic freedom to decide the packaging academic progammes that suit individual institutions, there are variances in what is being taught from one University to another. If you went to study law at a university where book-keeping or basic accounting is not part of the curricula, you will find basic book keeping at ZIALE. The effect only get to be seen when an independent evaluation of a student is undertaken such independent institutions such as ZIALE.
There is need to have uniform training curricula for all academic programmes in all institutions of higher learning and equivalent bodies to the effective Health Professional Council of Zambia (HPCZ) to prescribe and regulate different programmes.
Conclusion
There are many interventions which we can discuss here but government has a Ministry of Higher Education which must begin to think outside the box when it comes to provision of higher education. Sadly, the Ministry of Higher Education is not far from being called the Ministry of Higher Education for UNZA and CBU. Even at UNZA and CBU, the Ministry seem not to have plans to invest in infrastructure but is largely focused on taming students.
It would be more appreciated if the Minister of Higher Education and officials took leading roles to demand for increased budgetary allocation from Parliament and Government towards higher education and to initiating more infrastructure development. But we all know that so long government officials get their pay cheque, fuel and many other allowances, they all get home and dry.
But one must not expect too much from the Ministry of Higher Education. This is the Ministry that is preoccupied with lecturers and students not having unions of their choice to represent them until they have placed existing unions under their feet, as is the case with Nkrumah, Chalimbana, CBU Universities, among others. I always ask what officials from Ministry of Higher Education do when their counterparts travel to negotiate bilateral agreements to build roads, health facilities, etc.
The author is Secretary General for the Zambia National Students Union – ZANASU
[Read 1,229 times, 1 reads today]