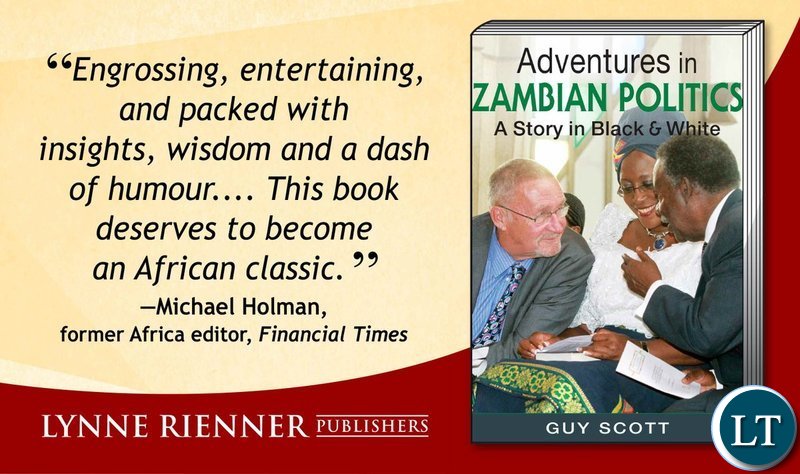 Former Vice President Guy Scott has written an autobiography that chronicles his life in Zambian politics.
His wife Charlotte announced on Twitter that Dr Scott's book titled Adventures in Zambian Politics is out and will be shipped to Zambia later this year.
A public launch for the book published by Lynne Rienner Publishers of the USA is planned for some time this year.
Dr Scott was acting president of Zambia after the death of President Michael Sata.
Prior to that he was vice president from 2011 to 2014 and has also served as Minister of Agriculture and leader of the opposition leader in Parliament.
The autobiography has described as a riveting account of Zambian political and economic developments from independence to today's Chinese dependence, by a major protagonist—the man who saved the country from famine as minister of agriculture, fought poverty and inequality and kwacha overvaluation, former MP for Lusaka Central, the first white vice president, and briefly president of the country, this is according to Professor Domenico M. Nuti of Sapienza University of Rome.
The foreword is written by Miles Larmer, a Professor of African History and Fellow of St Anthony's College who wrote that Adventures in Zambian Politics is unlike any political memoir you have ever read.
"It is … A political history of Zambia from colonial times to the present. A revealing insider account of politics and government within a modern African state. A story about race in Africa. A chronicle of the rise and fall of two improbable political allies who wanted to change Zambian politics: Michael Sata, whose convoluted political career led him to become president in 2011, and Guy Scott, Sata's vice president and, after Sata's death, acting president of Zambia. Not least, it is a pleasure to read. Guy Scott's absorbing narrative of his career and Michael Sata's in the chaotic world of African politics tells a uniquely Zambian story. But it is also a special contribution to our understanding of democracy and democratization across Africa," Prof. Larmer wrote.
Some interesting chapters in the book include The Plucky Little Devil, Northern Rhodesians, Sounds in the Forest, Young Michael Heads For Town, The First Wind, Chimwela: The Second Wind, The Reign of King Fred and Elements of Fudge.
Other chapters are X Years in the Wilderness, Y Days in Jail, Inside Looking Out, Daily Business, Double Dutch Syndrome, Chinese Whispers, Good Neighborliness and The Not-So-Rough Guide including a chapter titled Slow Death.
There is also a short Epilogue called A Quick Presidency, and After where Dr Scott talks about his stay as Acting President and the succession plan in the PF that followed the death of President Sata.
"Upon Michael's death, the Zambian Constitution elevated me to the job of acting president. Contrary to some poor reporting and mud-stirring, there were no two ways about it. There was some political waffle to the effect that the Constitution was being wrongly interpreted, but not a single legal authority without political interests took that position, and neither did the chiefs of the security forces. So now I became the only white president in sub-Saharan Africa, though without much real power to counter the disorderly scrapping for succession that immediately broke out. This short-lived promotion provided the Economist with one of its more amusing punning headlines: "White Man, Burdened" (4 October 2014). Indeed, there was another brief media feeding frenzy about me, but after a couple of gaffs, subsequent severe reprimand from Charlotte, and some timely, firm advice from her sister Stephanie, I cut off communication with most of the international press. With tensions so high, trouble could easily arise from sensational and inaccurate reporting intended to amuse foreign readers—but it was potential dynamite when recycled into Zambian discourse, most especially by word of mouth and via social media. The Constitution required that I act for no more than ninety days, within which an election was to be held to replace the dead president through the ballot," Dr Scott writes in one of the chapters.
Stephen Bush, special correspondent for the New Statesman says the autobiography is a part memoir, part history and is free of the robotic and unreflective tics that often haunt political biographies.
"It feels more like having a chat over a drink—if that chat ranged from political meetings in jail to the heart of Zambian government to the role of China's investment in Africa, with economics and a dash of literature thrown in," he wrote.
"A remarkably frank insider's account of a unique political partnership. . .. Guy Scott's themes range from derring-do on the campaign trail, to Keynesian economics, bare-knuckles backstage maneuvering, the blight of AIDS, and the complex web of forces that conspire against reform in his native Zambia and many other parts of Africa."—Alan Cowell, former foreign correspondent, New York Times, and author of Killing the Wizards
"Engrossing, entertaining, and packed with insights, wisdom and a dash of humour. . .. This book deserves to become an African classic."—Michael Holman, former Africa editor, Financial Times.
[Read 5,456 times, 1 reads today]