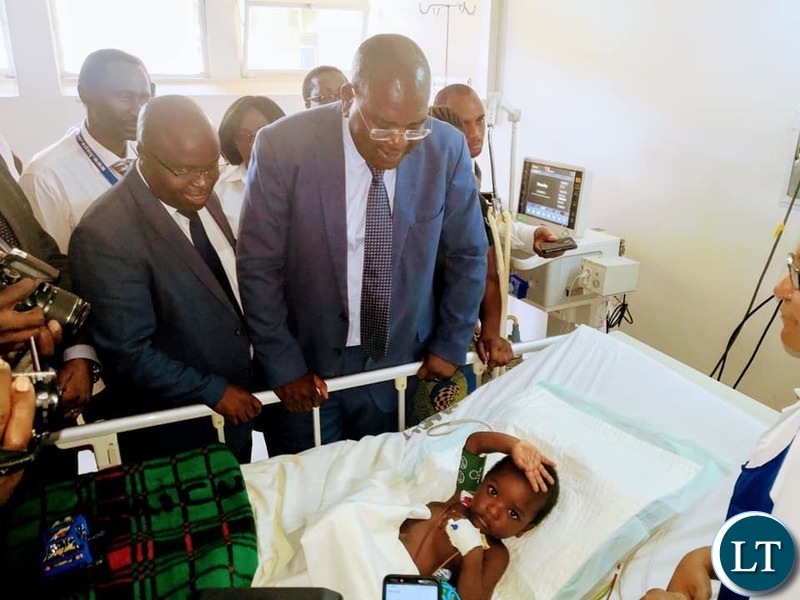 Richard Zulu, the boy who had an initial 44 foreign objects lodged in his body has continued to recover well as more and more of the needles and wires continue to be surgically removed.
The Minister of Health Dr. Chitalu Chilufya disclosed that a total of 33 needles have thus far been removed from Richard's body.
On the 7th of January, 2019, a team constituting 5 surgeons headed by the Chief Paediatric Surgeon, Dr. Bruce Vulani and supported by director Clinical Care and diagnosis, Dr. Alex Makupe performed the operation which started around 12 hrs and lasted close to 3 hrs and involved opening up of the lower part of the neck, chest and abdomen to remove the foreign bodies.
Speaking yesterday during a media briefing and before visiting Richard in ICU at UTH, the Minister revealed that 2 needles where removed from the neck where as an additional 2 where removed from around the heart area, 2 from the lungs and 3 from his liver.
The Minister further stated that Richard has been recovering in the intensive care unit the past 4 days and that his condition is stable, adding that he was now feeding well.
The Minister announced that the remaining 11 needles are not in delicate areas and have been left in order to reduce surgical trauma to the child.
"Since the remainder of the needles are not in delicate parts of the body, we will allow Richard to recover and grow before we can embark on the process of removing the remaining ones," the Minister said.
The child who earlier had 44 needles in his body that were discovered after the CT- Scan ,had 25 of them removed at Chipata General Hospital in Eastern Province while the remainder got referred to University Teaching Hospital in Lusaka.
Circumstances of how the needles got into the boy's body are still not clear and are under investigation by the local authorities in Chipata.