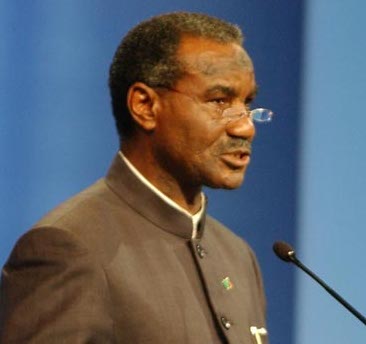 The remains of former Vice President Lupando Mwape will be repatriated to Zambia on Friday 25th January 2019.
Zambia's High Commissioner to South Africa Emmanuel Mwamba said the processes and logistics regarding the repatriation of the remains have been completed.
Mr. Mwamba said the body will arrive on Friday in Zambia aboard South African Airways at 15: 00 hours.
He said he will accompany the body together with the widow, Mrs. Happy Prisca Mwenya Mwape.
President Edgar Lungu has declared a 3-day period of national mourning that is expected to begin once the body arrives in Zambia.
Mr. Mwape served as Vice-President of Zambia from 2004 to 2006 under President Levy Mwanawasa.
He also served as Zambia's Ambassador to the People's Republic of China.
Meanwhile, Mr. Mwamba has also disclosed that Zambians living in South Africa will hold a memorial service for Mr. Lupando Mwape on Thursday,24th January 2019 at 17:00 hours.
He said the service will be held at St Martin de Porres Catholic Church Est situated at 35 Lancaster Avenue, Craighall Park, 2196, Johannesburg.
Mr. Mwape died on Monday at Avrywp Medical Centre in Johannesburg.
[Read 2,306 times, 1 reads today]