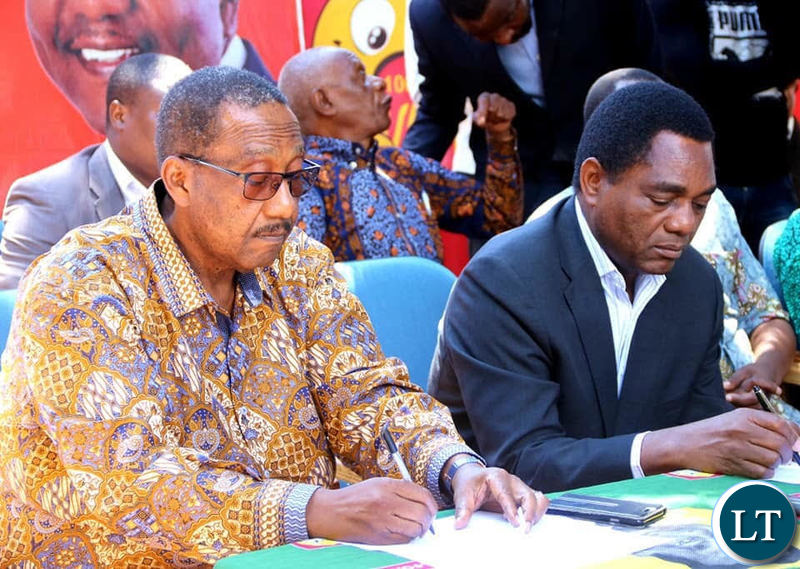 By Dickson Jere
The ongoing cracks in the top leadership of the opposition United Party for National Development (UPND) brings to the fore the practicality of Article 110 of our Republican Constitution – the clause that introduced the Vice President as running mate. Just imagine if UPND leader Hakainde Hichilema won the 2016 presidential vote and Godfrey Bwalya Mwamba (GBM) as his running mate was his Vice President. The current differences, even though internal party squabbles, would have presented a constitutional crisis for the country! As President, you cannot fire your running mate or Vice President. I have always thought we need to re-think about that running mate clause! It can be very problematic!
Let's take a look at our next door neighbor Malawi.
It has a similar running mate clause. But the experience there calls for re-think. All the three running mates who became Vice Presidents of Malawi ended up differing with the President. And the President could not fire them thereby creating a constitutional crisis. For example, President Bingu Wa Mutharika had to send his running mate and Vice President Cassim Chilumpha to prison for treason! But he remained Veep while in remand prison. In his second term, Mutharika differed with his new Vice President Joyce Banda. He kicked her out of the ruling party but she remained constitutionally a Vice President of Malawi even after she formed her own party. When Mutharika died, she assumed the Presidency even though she was an opposition leader! Currently, President Peter Wa Mutharika (younger brother) has differed with his Vice President Saulos Chilima. And so you have the Vice President, who formed his own party and now standing against his boss in the coming elections but he remains Vice President of the Republic! Classic right?
As for the current arrangement in Zambia, it appears to be working largely because Vice President Mama Inonge Wina appears to be elderly, mature and reserved. She is not power hungry as was the case with Malawi Vice Presidents. She keeps to her lane. Imagine having a Vice President with naked presidential ambitions? Friction will be the order of the day!
You see, Zambian political parties have had problems with Vice Presidents. The then ruling Movement for Multiparty Democracy (MMD) had to freeze the veep post, twice, at the convention. This was under President Levy Mwanawasa and Rupiah Banda, respectively. The freezing was aimed at bringing harmony in the party and therefore the party operated without one. Even the PF in opposition, operated for very long time without Vice President. So the troubles in UPND are not new when it comes to Vice President. Since it's formation, it has had eight Vice Presidents but only two Presidents. These are; John Mulwila, SC, Patrick Chisanga, Bob Sichinga, Sakwiba Sikota, SC, Canicius Banda, Richard Kapita, Francis Simenda and GBM. Off course the high number could also be attributed to the fact that it has two Vice Presidents at a go…
So as the National Dialogue starts deliberations on the Constitution next week, the running mate clause must be re-looked given the lessons and circumstances highlighted above. What happens when the Vice President goes wayward? Or decides to challenge the boss while holding the office? Or if he is fired from the ruling party? These must be fine-tuned! Yes, it has worked well in the US but it hasn't in Malawi!
Have a peaceful and holy Easter!