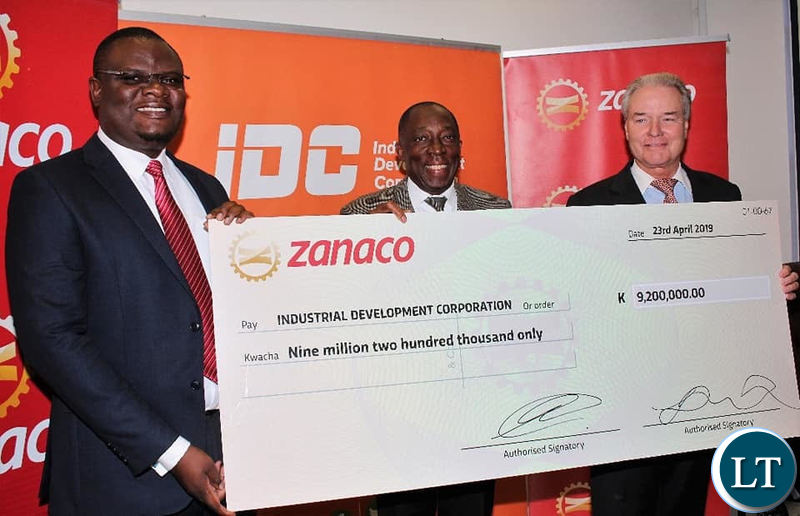 ZANACO Bank Plc has declared K9.2 million dividend to its shareholder the Industrial Development Corporation for the financial year ended 31st December 2018.
Speaking before presenting the dividend cheque on Tuesday, ZANACO CEO Mr Henk Mulder said liquidity and profitability are some of the core values at the bank.
He said the bank was a Zambian financial institution and will strive to remain profitable so that it continues to declare dividends to shareholders.
At the same occasion, ZANACO Board Vice Chairperson Mr Hastings Mtine said the bank will continue growing shareholder investments to result in higher returns in future.
Receiving the dividend cheque, IDC Group CEO Mr Mateyo Kaluba said the transformation process being implemented at ZANACO is now yielding positive results.
He said IDC is happy to receive the dividends that have increased from last year's K1.2 million to this year's K9.2 million.
Mr Kaluba said the strong performance by the bank also demonstrates that it has a competent team that understands the challenges faced in the country's economy.
He said, it is gratifying to note that some listed companies such as ZANACO and ZCCM-IH are performing better.
He added, it is the desire of the IDC to see more companies get listed on the stock exchange.
Mr Kaluba further said the funds will be invested in various projects such as fruit processing in Eastern and North-Western provinces, Kawambwa Tea in Luapula and Cashew nut growing in Western province.
IDC holds 25% shares in ZANACO Bank Plc.