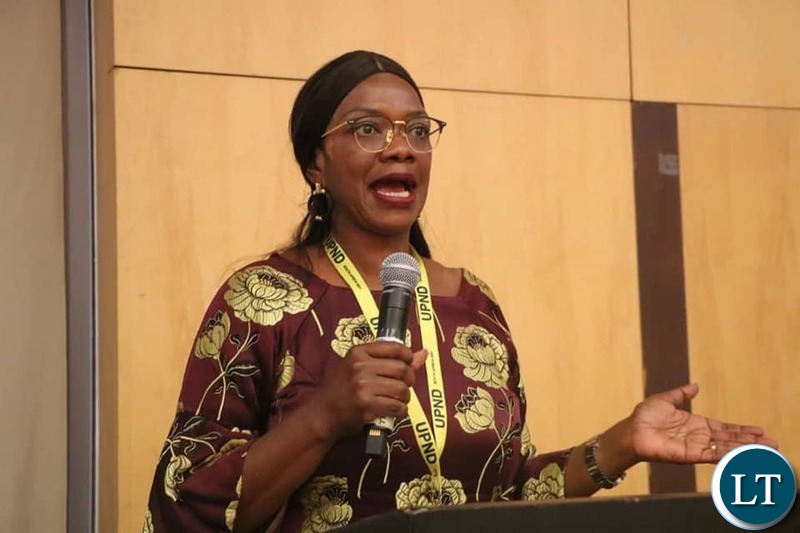 The Opposition United Party for national Development (UPND) convened at Sandton Conference Centre, with about 200 hundred UPND members from three countries for a Mobilization Conference organised by the UPND South Africa 2021 Chapter.
The mobilisation conference which was graced by party Secretary General Stephen Katuka drew about 30 participants from Zambia, 4 leaders from Botswana and the rest came from within South African being the host country.
Mr Katuka said the initiative of SA 2021 Chapter to mobilise for UPND on the South African soil was not a new thing in as far as politics was concerned in Southern Africa.
"The Africa National Congress (ANC) set up base on the Zambian soil to mobilize the party during the liberation struggle of Southern Africa. ANC took advantage of our peace and stability to strategise and mobilise the party from Zambia and it worked.
Therefore, the SA 2021 Chapter is in order to moblise for the UPND from here in the rainbow nation. We need to take advantage of the strong economy and some opportunities available in South Africa to mobilize for 2021," Katuka said.
The UPND SA 2021 Chapter Chairperson, Bizwell Mutale invited Hounorable Romeo Kang'ombe to the front and said that his victory in Sesheke was an example of the sweet presidential victory that shall be delivered in 2021 by UPND for the people of Zambia.
"Through this mobilisation conference, we are gathering momentum for 2021 and our wheels are steadly turning on a journey whose final destination is Sate House.
When you are buying a car, you dont just buy a car for the sake of it; you look for a brand that represents your image. Undoubtedly, president Hakainde Hichilema, is a great brand that represents the type of leadership the people of Zambia need today."
And speaking at the same function, National Chairperson for Stategy and Mobilization, Sylvia Masabo described the UPND SA 2021 Chapter as one among the best in terms of visibility in party work, and patriculary in mobilization efforts.
She said the major patners in the effort to mobilize membership for the party were through the departments of Youth and Women Affairs, especially.
"Women and Youths are very interested in voting because they feel the brant of bad governance and the sitation under the PF has digenerated to unpreccedented low levels.
In terms of comparison from 1964 to date, the current PF government, stands out as the worst administration Zambia has had since independence and people who are suffering the most are women and youths," said Masebo.
If the department of Staragey and Mobilisation is not working well enough in UPND it shall be very difficult to win any elections, especially the 2021 presidential and general elections.
Masebo also emphasized that if the mobilization efforts being done by SA 2021 Chapter were replicated by the party in Zambia from branch to National level, UPND could have easily been winning every election.
"The function of Mobiliation cuts across all sectors inncluding the Media Depeartment becuase though media, we can be heard and be seen, and people make a decision to vote based on what they hear and see in a political party.
An effective media department in the UPND is critical in the sucess of mobilisation. Without an effective media department, mobilization shall low down and possibly drind to a halt." Masebo said.
She also quoted the statement made by UPND President Hakainde Hichilema on 27th February 2021 regarding mobilization.
Quote; " We are here to ensure that we are organised to win the elections in 2021. Although we won the elections, both in 2015 and 2016 presidential and general elections, we have to ensure that we are ready to protect the vote so that we do not just win the elections but we should be able to take over the government; and taking over govenment includes ensuring that we are sworn in.
The leadership of the party must understand and articulate the reasons why the people should support and join the UPND. This is also true for those of our members, you must understand what the party will do once in govenment. In short understand your party policies, namifesto and programs," Unquote.
And National Chairperson in charge of Youth Affairs, Likando Mufalali told the gathering that the party was not seeking change of government out of jelousy but in the sense of restoring hope and dignity for the people of Zambia.
"For us to win the 2021 elections we have to be very simple and very objective too. As UPND Youths our job must be that of teaching people and not to compete in singing campaign songs and chanting political slogans.
Our focus should be about teaching people regarding what has gone wrong in the country to eneble them appreciate why voting for UPND and our beloved President HH is the only option Zambians have in 2021," said Mufalali.
And Sesheke Central lawmaker Honourable Romeo Kango'mbe thanked SA 2021 Chapter for endorsing the candidature of president Hakainde for 2021 adding that he saw no other leader capable to lead the party as of now.
"If UPND is to form government in 2021, there is no another leader as at now other than president Hakainde Hichilema and I thank the Chapter for endordsing his candidature for 2021," Hon. Kangombe said.
Earlier, the Secretary General of SA 2021 Chapter, Ishmael Chong'ombe explained that they had a specific mission with a spacific target in mind.
He said that the key to effective mobilisation is to get involved is all activities and and grow the party from strenght to strength to strenght . Already, there shall be the Anderson Mazoka Soccer Tournament on 11 May 2021 in Johannesburg.
It was very encouraging to see Lazarous Mulenfwe a 19 year old Zambian Student at Water College take a solo lead in singing the South African National Anthem at the opening of the Mobilization Conference.
Among some notable persons present was Macenje Mazoka, the daughter of the founding president of the UPND. She is a Trustee – SA 2021 Chapter