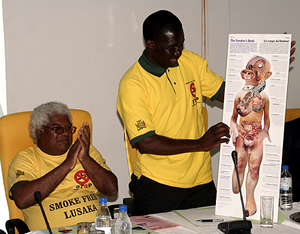 Vice President George Kunda has called for the effective
enforcement of the Law against smoking in public.
Mr. Kunda says the enforcement of the Law against smoking public will help to protect the public from the harm caused by exposure to tobacco smoking.
The Vice President said this in a statement read on his behalf by Health Deputy Minister Mwendoi Akakandelwa during the official launch of the Smoke Free Lusaka Campaign programme.
Mr. Kunda said government is concerned with the devastating effects of tobacco smoking adding that the recent studies by the World Health Organization (WHO) revealed that more than six million people were dying annually from the tobacco related diseases.
He further said that government was losing a lot of revenue in addressing the various effects of tobacco related diseases.
He said government would always endeavor to ensure that the Zambian people were protected from the dangers of tobacco by putting in place remedial measures aimed at mitigating the effects of tobacco.
Mr. Kunda has since called for a sensitization programme of communities on the dangers of tobacco smoking with a view to addressing the various effects associated with tobacco use and smoking in the country.
Tobacco Control Group Chairperson Faston Goma urged government to double-up efforts aimed at enforcing the Law against smoking.
Dr Goma said there is an urgent need for government to devise an effective mechanism that will help protect the present and future generations from the devastating health, social, environmental and economic consequences of tobacco consumption and exposure to tobacco smoke.
He said this can only be attained by providing an effective framework for tobacco control measure to be implemented by the concerned parties with a view to reducing the continuous and substantial use of tobacco and smoke in the country.