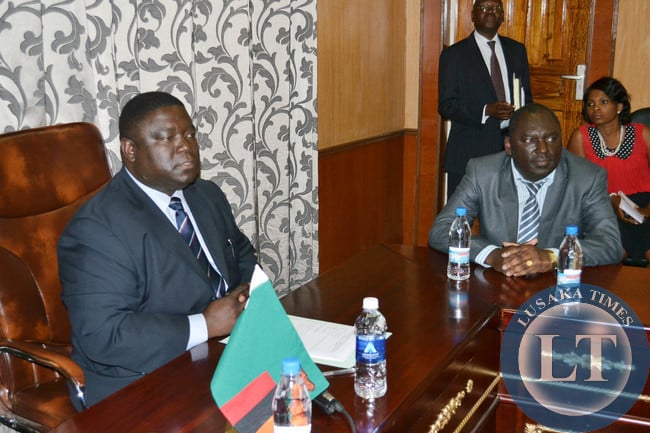 THE ZAMBIA Railway Limited (ZRL) yesterday launched the first ever passenger services train to operate between Kapiri Mposhi and Nakonde.
Transport, Works, Supply and Communications Minister Yamfwa Mukanga reaffirmed that the launch was in line with Governments vision of ensuring the railway network connect provinces and neighbouring countries.
Mr Mukanga said the Patriotic Front (PF)'s campaign promises of linking the provinces and ensuring reliable train transport services was bearing fruit.
Mr Mukanga was speaking in Kapiri Mposhi yesterday during the commissioning of the passenger service train in partnership with the Tanzania Zambia Railways (TAZARA) which was also attended by Central Province Minister Obvious Mwaliteta, Central province Permanent Secretary Edwidge Mutale and her deputy Ronald Sinyangwe, ZRL Chief Executive officer Muyenga Atanga, among several others senior government and PF officials.
He said the government was committed to ensuring the railway network was improved and pledged its support to see to it that the government's vision was achieved.
"I am happy that the commissioning of the train services will compliment the already existing TAZARA train service and would provide a regular passenger train between Kapiri Mposhi and Nakonde thereby increasing a number of people using our train, "he said.
The minister said the introduction of the passenger train service had a potential of enhancing the livelihood of the people considering the trade activities taking place between Kitwe to Nakonde via Kapiri Mposhi.
Mr Mwaliteta said the commissioning of the train services would assist alleviating the strain on the roads and reduce on the cost of travelling from central to Muchinga province especially for small and medium entrepreneurs.
Ms Mutale said the province looked forward to a time when a policy direction would be issued not to allow heavy duty vehicles on the roads promote the use of wagons as a means of protecting the roads from further damage.