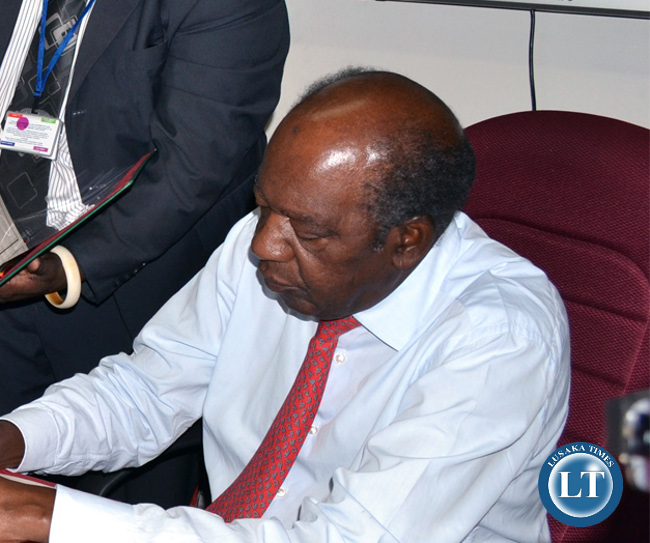 France, through the French Agency for Development (AFD), has given Mulonga Water and Sewerage Company 50 million Euros (K390 million) support for rehabilitation and expansion of water supply services in Mufulira, Chingola and Chililabombwe districts on the Copperbelt Province.
The project, which is France's first operation in water and sanitation in Zambia, is targeted at ensuring that urgent improvements are done to water and sanitation infrastructure in Mufulira, Chingola and Chililabombwe.
Finance Minister, Alexander Chikwanda, signed on behalf of Zambia while Martha Stein-Sochas, Head of the AFD's Regional Office for Southern Africa, signed on behalf of France.
Speaking at a signing ceremony for the agreement, Mr Chikwanda said like in many parts of Zambia, most existing water reticulation infrastructure in the targeted districts is more than 50 years old and under massive pressure in meeting the ever growing demand for water and sanitation services.
This is contained in a press statement made available to ZANIS in Lusaka today by Ministry of Finance Public Relations Officer, Chileshe Kandeta.
"We have embarked on fast-paced economic development, thereby increasing the demand for utilities and services.
"However, we have not been fast enough in expanding the capacity of utility companies, not only for the benefit of urban precincts, but also peri-urban and rural areas as well. Fortunately this will soon be a by-gone for Mulonga Water and Sewerage Company (MWSC)," assured Mr Chikwanda.
He said the three towns' water supply programme will effectively improve the ancient water supply infrastructure and facilitate provision of not only reliable, but also expanded reticulation services to the current and previously un-served low-income areas, with the overall objective of poverty reduction and national development.
Mr Chikwanda said the implementation of the programme is expected to take six years and will not only generate significant local employment but also ensure steady supply of water for the massive infrastructural development and other economic activities in the targeted areas.
And Ms Stein-Sochas said the project includes a specific focus on improving water and sanitation services in informal settlements.
She said the rehabilitation and construction of infrastructure will cover water intakes, treatment plants, pumping stations, reservoirs and supply and distribution networks of each municipal water system as well as the sewers, lagoons and wastewater treatment plants for the sewerage system.
"It is expected that 25,000 new households will have access to clean water for the first time. This will include working with local community groups and non-governmental bodies to provide water kiosks, piped water connections and new sanitation facilities," she said.
Meanwhile, French Ambassador to Zambia Emmanuel Cohet has disclosed that through, AFD, France has over the last five years provided 110 million EUROS in long-term loans in Zambia.
"This includes support for transport infrastructural development like the upgrade of the Great East Road. France has also invested in power sector infrastructural programmes such as the Itezhi-Tezhi Hydropower and Transmission Line Scheme," said Mr Cohet.
The French delegation expressed the commitment of AFD in increasing its support to the water and sanitation, waste management, energy and agricultural sectors in Zambia.
The 50 million EUROS or K390 million from AFD represents only a part of the overall project cost totalling 156 million EUROS (K1, 217 million) with Zambia and the European Investment Bank (EIB) providing respectively 20 million EUROS (K156 million) and 75 million EUROS (K585 million).
Government has, however, already secured 75 million EUROS from European Investment Bank and will provide the balance.