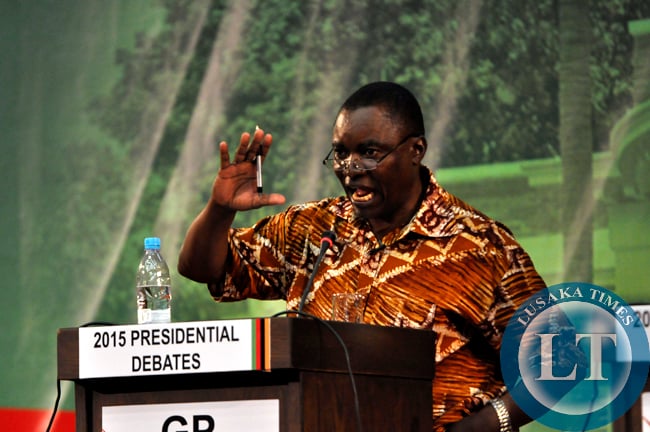 President of the Green Party of Zambia Peter Sinkamba has revealed that he has secured an appointment with rug Enforcement Commissioner Ms. Alita Mbawe this week to discuss his grand marijuana project.
Mr Sinkamba said he will use the occasion to present the conceptual framework for the proposed pilot Green Gold Medicinal Marijuana Investments Project to the DEC Chief.
He said the proposed project will be implemented by Worldwide Environmental Risks Surveyors Limited (WERS), a Zambian registered company that he owns.
Mr Sinkamba said his firm intends to cultivate, process, and dispense marijuana (cannabis/hemp) for medicinal purposes pursuant to Section 9 of the Narcotic Drugs and Psychotropic Substances Act, Cap 96 of the Laws of Zambia which states provides as ' Any person who, without lawful authority, cultivates any plant which can be used or consumed as a narcotic drug or psychotropic substance, or from which a narcotic drug or psychotropic substance can be extracted, shall be guilty of an offence and shall be liable upon conviction to a fine of not less than five hundred penalty units or to imprisonment not exceeding ten years or to both.
Provided that no person shall be guilty of the offence under this section if the plant is cultivated for purposes of medicine or is not on a substantial and commercial scale." (As amended by Act No. 13 of 1994)
He said his company intends to seek clearance to proceed with the project pursuant to the legal provision adding that a Letter of Intent has since been sent to the DEC Commissioner.
'The proposed Cultivation Facility will be situated on the Copperbelt. In addition, four pilot Medical Marijuana Dispensary Centres are proposed to be opened and located in Kitwe, Ndola, Lusaka, and Livingstone,' he said.
Mr Sinkamba explained that the Dispensary Centres will be used as outlets for dispensing medicinal marijuana to registered patients adding that the patients will be required to obtain legal prescriptions from qualified Medical Doctors.
He said qualified marijuana pharmacy staff will be employed to dispense the medicine adding that the source for medicinal marijuana to be dispensed from the Dispensaries will be strictly from the above stated Cultivation Facility.
'There are seven objectives for the proposed pilot project. The first objective is to be a model in Zambia, on cultivation, processing and dispensing of marijuana for medicinal purposes. Government, investors and the farming community will draw lessons from the experiences at the pilot project,' he said.
Mr Sinkamba said the second objective is to demonstrate Zambia can use unconventional and creative thinking and out-of-the-box strategies to grow the economy substantially.
'The revenue will be generated from local sales and exports, taxation, fees and levies. Depending on how successful the pilot project is, revenue generated, when medicinal marijuana business is scaled-up, could be one of the sustainable sources that government, in the long-run, may rely upon to significantly reduce the country's debt burden.'
The Green Party leader said the third objective is to create wealth for host communities adding that wealth will be created through job creation and business opportunities which could be one avenue through which abject poverty, especially among youths and small-scale farmers in rural areas, could in the long-run be alleviated.
Mr Sinkamba said the pilot project is planned to produce approximately 500 tonnes of processed medicinal marijuana per annum by 2017 with Capital expenditure for the proposed project estimated at US$10, 000, and 000.
He said the proposed commencement date for pilot activities is June, 2015 while the lifespan of the pilot project is 3 years.
Mr Sinkamba said depending on the successes recorded during the pilot period, his firm plans to roll-out the project to other parts of the country from 2018 forward starting with Eastern, Southern, Northern and North-western Provinces.