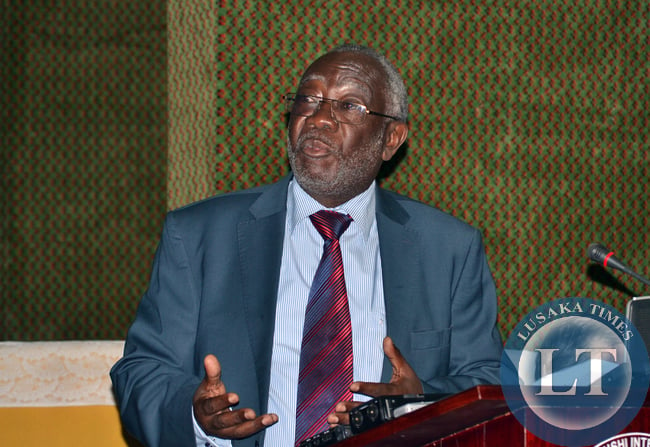 Government has engaged the mining companies to ensure that the impending job losses in the mining sector are reduced to the barest minimal as the Mine Workers Union of Zambia (MUZ) rejects any retrenchment move, saying other positions can still be considered.
Chief Government Spokesperson, Chishimba Kambwili, told the media in Kitwe today that government and the mining companies have agreed to ensure that the pending job losses in the mining sector are kept at the barest minimal level to ensure the sustainability of the mining companies' protection of jobs.
Mr Kambwili said the mining companies have also agreed that they will be negotiating with the unions before they could implement any retrenchment action.
And Mr Kambwili, who is also Information and Broadcasting Services Minister, has disclosed that government has released US$120 million towards Value Addition Tax refund owed to mining companies.
He said the process of disbursing the funds is already being processed by the Ministry of Finance.
Mr Kambwili was speaking in Kitwe today after a delegation of five government ministers held a closed door meeting with mining companies and later with the unions in the mining sector in an effort to abate the massive pending job losses in the mining sector.
The ministers that attended the meeting include Finance Minister, Alexander Chikwanda, Mines Minister, Christopher Yaluma, Labour Minister, Fackson Shamenda, Commerce and Trade Minister, Margret Mwanakatwe and Mr Kambwili together with their respective Permanent Secretaries and other senior officials.
And earlier, Labour Minister, Fackson Shamenda, said government realizes the seriousness of the challenges being faced by mining companies and the possible effects of the impending job losses in the sector.
Mr Shamenda said it is because of this realization that government attaches great importance to the need to dialogue with the mining houses in order to resolve the challenges to sustain the operations of the mines and preserve jobs in the sector.
And Mine Workers Union of Zambia (MUZ) president, Chishimba Nkole, said the union will not accept any move to retrench workers.
Speaking to journalists, Mr Nkole said the union cannot accept any retrenchment because of the impact that such a move would cause on the economy and the individual households in the mining towns.
Mining companies have threatened to retrench workers on account of the falling copper prices on the international market, power load shedding and non-payment of Value Added Tax refund government owes mining companies among other reasons.
Already, Luanshya Copper Mines has sent over 1000 workers on forced leave and Konkola Copper Mines have also retrenched several workers while Mopani Copper Mines have notified government about their intension to lay -off over 3000 workers.