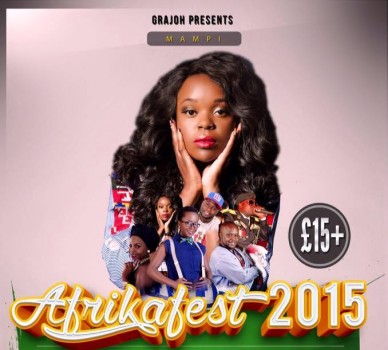 Mampi failed to show up at the AfrikaFest concert in the UK on 3rd October .
The organizers of the event Grajoh Talent Management issued the following statement:
"We would like to thank Anne Kansiime, Iryn Namubiru, Kidumu & Snipper Storm who travelled distances to honour their contractual obligations but more importantly for you their fans.We would like to thank our UK based artists for they made this a welcoming home.
We would like to thank the community leaders who embrace and support our efforts.
We profusely apologise for the no show of Uganda's Eddy Kenzo & Zambia's Mampi Mukape. It's no small matter. But we can assure you we did all required of us. There will be more about this in subsequent communications and through appropriate channels."
Mampi issued an apology to her fans on her facebook page :
"I would like to apologize to all my fans that attended the Africafest in London on the 3rd of October,I could not make it due to circumstances beyond my control.i only managed get my passport back from Pretoria where the visas are processed from on Saturday the day of the show,we tried everything we could but it did not work.thank you for the support and we will make up for it.much love. mampi."
"AFRIKAFEST" is the biggest East and Central Southern African community event in Europe. It is an all-inclusive and purely social-cultural festival designed to promote and celebrate Africa Talent. It is an annual show that features different artists from across Africa and other regions. The event took place on 3rd October 2015 at Troxy in London / United Kingdom from 6:10pm – 2:00am UTC+01
BY KAPA187