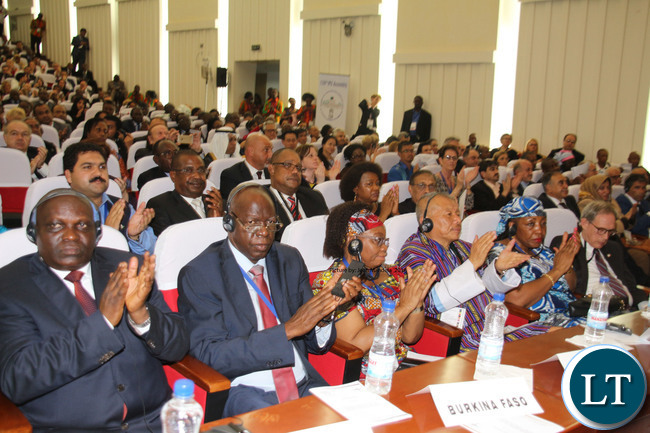 Speaker of the Zimbabwean Parliament Jacob Mudenda says this year's Inter-Parliamentary Union (IPU) general assembly theme is both critical and strategic as it calls for pragmatic action to uplift and create qualitative life among the youth.
And Mr. Mudenda says Zimbabwe and Zambia have a lot to learn from each other through experiences from parliamentary exchange visits.
In an interview with ZANIS, Mr. Mudenda told ZANIS during the on-going 134th IPU conference in Lusaka that the IPU theme of "Rejuvenating democracy; giving voice to the youths" is cardinal and timely in view of the UNDP 2012 publication 'Enhancing Youth Political Participation,'
The publication states that young people between the ages of 15 and 25 constitute a fifth of the world's population who need to be involved in influencing global social economic development.
Mr Mudenda said the IPU theme fully captures the IPU's collective thought to redress the limited influence of youths in national political institutions and the economic sphere.
The Zimbabwean Speaker said all countries need to avoid relegating the youths to a position of obscurity but make them define their own unique and
branded footprint of development in society.
Mr Mudenda said the youth's road to self-discovery and personal development for self-actualization lies in creating an enabling legislative, policy, financing, education and training framework that are conducive to democratic governance contribution.
He explained that the Zimbabwean Constitution in section 20 provides a youth friendly legal framework which promotes youth political and social economic participation.
Mr.Mudenda said the Zimbabwean government has since used the youth friendly legal provision to spearhead the youth socio-economic development agenda through the National Youth Policy.
He said young parliamentarians in Zimbabwe chair some portfolio committee and six have been appointed to ministerial positions.