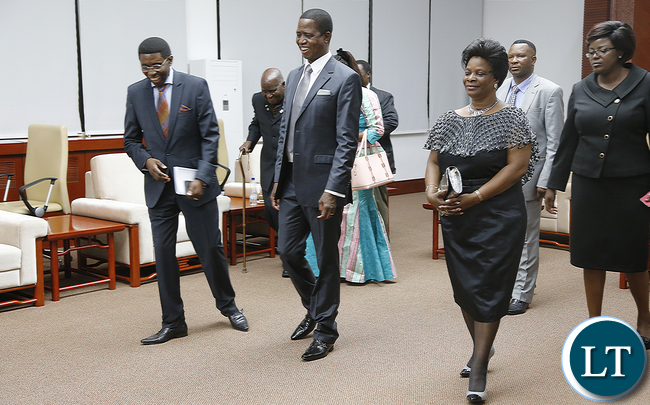 Commentary on Bishop Joshua Banda's rebuke to Hakainde Hichilema
Joshua Banda's conduct over the years has always intrigued me. Let me explain.
Its been argued that the Church should never get entangled with issues of governance and must restrict itself to preaching the Bible. To criticise government or political parties is alien to Christianity and must never be done. After all, what do Pastors or Priests know about governance. Their job is to preach the Bible. Period.
This argument is very popular amongst government leaders whenever they fall foul of Church leaders and not when the Church is supporting them. They want the voice of Bishops and Priests banished as long as they are critical of government.
However, to advocate that the Church should not comment on political issues is pure ignorance and hypocrisy. The Church should care about the welfare of citizens, their members. Bad politics, or indeed poor governance, leads to great suffering of the majority and surely the church should care about this.
Jesus was not one to shy away from the issues that affected the people, especially the poor, who always tend to be in the majority. The Catholic Bishops all over the world have constantly raised their voice whenever they perceived that governments were taking advantage or indeed abusing the poor. This is something I have personally applauded as it is done purely out of concern for the suffering majority and is never about taking political sides.
This however does not mean that Pastors and Bishops should openly take sides like Bishop Joshua Banda has done again and again over the years. When a Pastor does that, they unwittingly lose the respect they command amongst some of their church members. Put another way, they cease to have the authority to lead and shepherd the flock of Jesus Christ.
In every church you will find people belonging to different parties; some to PF, others to UPND, MMD etc and the Pastor is Pastor to all. But when the Pastors is seen as supporting one political party over another, like Bishop Banda has done over and over again, the flock begin to lose the respect they have for them and this undermines their role as God's messengers. They become a PF or UPND vuvuzela.
I once attended a church and the Pastor all of a sudden came out supporting UPND. That is the day he lost respect in my eyes and in the eyes of many of the congregants. This is a line that Pastors and Priests should never cross but a line that Bishop Banda enjoys crossing in disrespect to his congregation.
Bishop Banda is a PF cadre (I know it's an open secret but someone has to say it loud). Here me people, there is nothing wrong in a Pastor supporting the PF or any other party for that matter as long as they do it as an individual. Bishop Banda is free to support Edgar Lungu as long as he doesn't do it under the guise of the Church as he has been doing. He ceases to represent the church, or his own congregation for that matter, when he openly takes sides. He can only speak on his own behalf, and maybe on his wife and children's.
It is pure dishonesty and hypocritical to rebuke HH as Bishop Banda has done by saying that "Zambians will not vote for HH if his strategy is to use hate speech". Why isn't he also talking about Chishimba Kambwili, Jean Kapata or Mumbi Phiri who are always very derogatory? We know who Bishop Banda is campaigning for but it is unfortunate that he is hiding under the guise of the church.
He goes on to say: "we are concerned as a Church on this growing trend". Why does Bishop Banda feel he should be the one speaking the church's behalf? I am afraid Bishop Banda lost the right to speak on behalf of the church the moment he started taking sides. Starting with Chiluba, then Sata and now Lungu.
People saw the panic that engulfed Bishop Banda at the time the PF was threatened with disintegration following President Sata's death. Bishop Banda was in the forefront helping to unite the different PF factions because his earning power was dependent on this. This I must say is unprecedented. Meanwhile, the MMD was going through the same scenario with Dr. Mumba and President Banda at each other's throats but since there was no personal gain for Bishop Banda, he never bothered to initiate reconciliatory talks among the warring MMD members.
I know some are saying he is trying to do just this in the recent weeks, bringing Dr. Mumba and President Banda together. No people, Bishop Banda is trying to unify the MMD now only because President Lungu wants an alliance with MMD and a strong MMD will therefore help PF at the August 11 polls.
Bishop Banda is human and political like most of us but because of his position, and the faith he professes to represent, he should be keeping his cards close to his chest and letting his true leanings only known to those very close to him. This is what the Catholic Bishops do and will keep doing whether its MMD, PF or UPND in government. And for this reason, they remain respected by all.
By Dr. Jedrin Ngungu