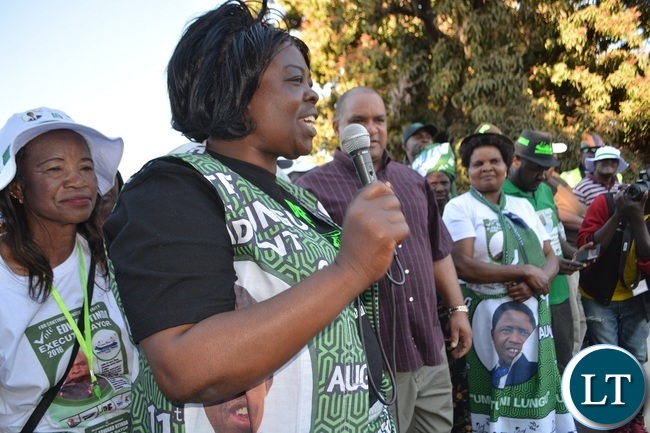 Mandevu PF Member of Parliament Jean Kapata has challenged Chief Mukuni of the Toka-Leya people of Southern Province not to economise on the truth regarding the displacement of people in Namwala district.
Ms Kapata says it is wrong for Chief Mukuni to mislead the nation that no people were displaced when there is evidence to show that people were beaten and relocated after the announcement of President Edgar Lungu's re-election.
Ms Kapata who was speaking when She visited the displaced people with other PF parliamentarians said the chief should not be used by politicians to mislead the nation.
She said PF is will help the displaced people because it is a party that was founded for the benefit of the poor.
Ms Kapata says the chief must come out openly and tell Zambians if he has joined politics .
MPs that are part of the entourage are Kabushi's Bowman Lusambo, Chifubu's Frank Ng'ambi and Alex Chiteme of Nkana.
PF National youth coordinator Prince Robert Mushili is also in the entourage.
And Namwala district Red cross President Patrick Kalaluka said the Red Cross is mainly concerned about the sanitary conditions at the school considering that they are a lot of people hosted at Namwala Secondary School.
Meanwhile, in Namwala, the Police apprehended have nine more people in Maala area who were suspected to have been behind the burning houses for the villagers in the area during the riots.
Yesterday, two suspects have been arrested in Namwala for allegedly engaging in arson and malicious damage to property.
Recently, several Namwala residents were arrested and taken to court for burning and damaging properly soon after President Edgar Lungu was declared winner of the just ended General Elections.
Southern Province Commissioner of Police Godwin Phiri said two more suspects for Maala Arson and Malicious damage cases by the names of Reagan Kakoto, 32, of Shakalimamushi Village and Lloyd Shimutati, 34, of Kauwa fishing camp have been arrested.
Mr Phiri said the arrests were Police's continued efforts to bring to book culprits of Namwala attacks on Patriotic Front (PF) members after the declaration of the winner for the August 11 presidential elections.
He said in a press statement released yesterday that the two were expected to appear in Court soon.
He said the province had been quiet and did not experience any incidents of crime.
"For the past 24hrs security situation has been encouraging as no significant incidents politically or criminal were recorded. In the continued effort to calm the violent situation in Maala of Namwala district, last night nine suspects involved in the burning of houses have been apprehended," he said.
[Read 19 times, 1 reads today]