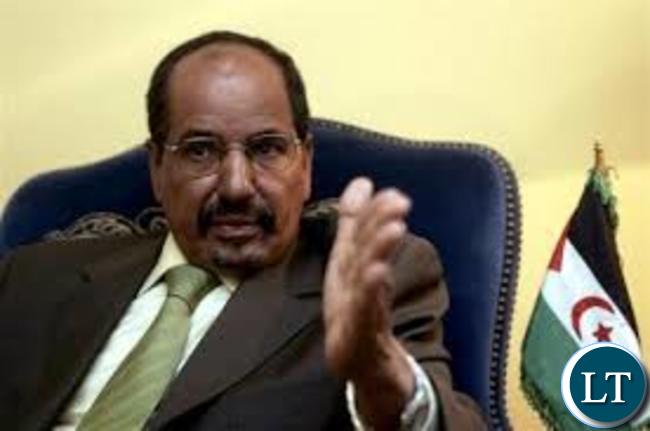 President Edgar Lungu will today host President of the Sahrawi Arab Democratic Republic Brahim Ghali for talks at State House in a last ditch attempt to fix the diplomatic blunder that his administration made last year when it broke off diplomatic ties with the territory.
Foreign Affairs Minister Harry Kalaba has confirmed that President Ghali will be in Zambia for three days.
Mr Kalaba in June last year shocked the diplomatic circles when he announced that the Zambian Government had decided to withdraw its recognition of the so-called Sahrawi Arab Democratic Republic (SADR), a partially recognised state that controls an area in the Western Sahara region.
He said Zambia was in support of Morocco's claim to the territory.
Mr Kalaba's decision was contrary to Zambia's and SADC's historic position which has always advocated for the independence of the Western Sahara region.
Sources in the diplomatic community say most SADC leaders including South Africa's Jacob Zuma and Zimbabwe's Robert Mugabe have been disappointed with the stance taken by Zambia to betray the region and the entire Africa Union by backing Morocco.
The visit President Ghali comes at a time when Morocco has been on a charm offensive across the continent, in a push to return to the African Union that it left in 1984 when Sahrawi was admitted.
Morocco, at the time, protested that Sahrawi was part of its monarch.
Moroccan King Muhammed VI had cancelled his visit to Zambia in December in what observers say was in protest against Lusaka's sudden change of heart.
Over the weekend, President Zuma held talks with President Ghali who was in that country for a working visit.
A statement from the presidency said "The visit is aimed at deepening and strengthening the already existing good political relations between the two countries, fortified by the strong historical ties dating back from the years of the struggle against colonialism and apartheid."
The ANC led government has been one of the staunch supporters of the Saharawi people, fighting for independence from Morocco.
Their struggle for independence is seen as the last anti-colonial struggle on the continent.
Talks between Morocco and Sahrawi are currently locked in a stalemate, a development condemned by many African nations.
"The protracted suffering of the people of Western Sahara and the current impasse in negotiations towards finding a durable solution to the struggle for self-determination remains a major concern for the South African government and the continent of Africa," the South African presidency said.
[Read 90 times, 1 reads today]