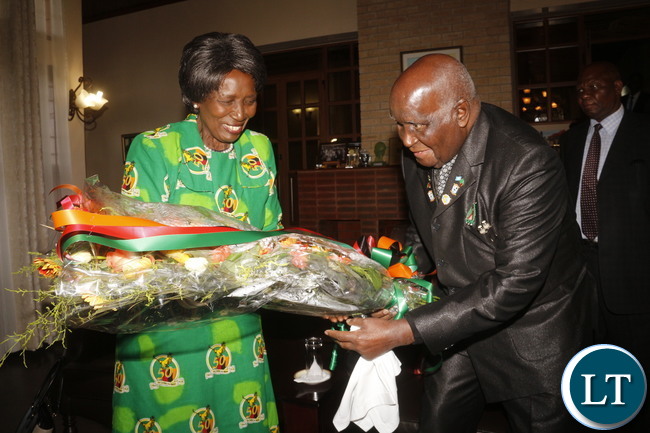 President Edgar Lungu President has sent his heartfelt birthday message to First Republican President Dr. David Kenneth Kaunda on his 93rd birthday which falls today.
In his message to Dr. Kaunda, President Lungu has thanked God for sustaining the first Republican President for many years and wished him many more happy returns.
The President has paid glowing tribute to Dr. Kaunda for the immense sacrifices that he and with his fellow freedom fighters made to attain Zambia's political emancipation.
The President has hailed Dr Kaunda as a living icon who should be emulated by the young generation by embracing the good values that he has always stood for, of loving God and loving fellow neighbours.
President Lungu advised the nation not lose sight of the unity and love that the First Republican President has always preached under the One Zambia One Nation motto, if peace and stability is to continue.
The President has said the selfless attributes of Dr Kaunda not only contributed to Zambia's political freedom but to the emancipation of other countries in the region and beyond.
The President observes that Dr. Kaunda had placed the bar high hence the country's recognition by the international community as a beacon of peace and stability.
"On behalf of the Zambian government, the people and indeed on my own behalf, we join you, Your Excellency in celebrating your 93rd birthday. We thank God for sustaining you all these years and pray for more blessings upon you. We are proud of your achievements for this country. Please accept my warm personal best wishes for good health and many more happy years," the President said.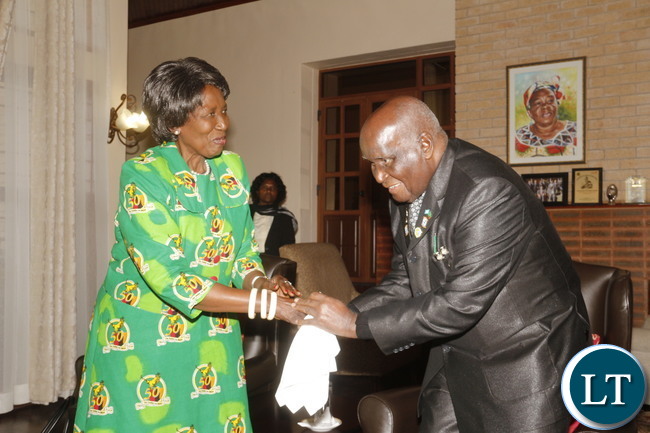 And Government has released the message below the first republic President a happy 93rd birth day
Ministry of Information and Broadcasting Services
GOVERNMENT WISHES FIRST REPUBLICAN PRESIDENT DR. KENNETH KAUNDA A HAPPY BIRTHDAY
Government wishes first Republican President Dr. Kenneth Kaunda a very happy and gratifying birthday as he turns 93 years old today.
As a nation we acknowledge the selfless contribution made by Dr. Kaunda and other freedom fighters to liberate Zambia from its colonial masters.
Dr. Kaunda inspired millions of Zambians to fight relentlessly to bring about freedom, unity, peace and stability.
We are also grateful to this exceptional compatriot for allowing himself to be used as an icon of our emancipation struggle.
UNIP led by Dr. Kunda ran a spirited fight for Zambia's independence.
We also acknowledge the role which Dr. Kaunda played in the liberation of other countries in the region and beyond.
Since leaving active politics in 1991, Dr. Kaunda has been playing the role of father-of-the-nation figure for Zambians.
He has also been involved in various charitable organisations. His most notable contribution has been his passion in the fight against the spread of HIV and AIDS.
Dr. Kaunda remains an icon not only to Zambia but Africa and the world.
Government under the leadership of President Edgar Lungu is on a mission to translate the hard won political independence by Dr. Kaunda into economic independence by delivering viable services to the Zambian people and will count on the support of all as they have always done.
I urge the general citizenry, particularly young people, to take advantage of this discerning and brilliant father of the nation for guidance.
We love you and wish you long life and God's blessings.
Hon. Kampamba Mulenga, MP
MINISTER OF INFORMATION AND BROADCASTING SERVICES AND CHIEF GOVERNMENT SPOKESPERSON
28th April, 2017