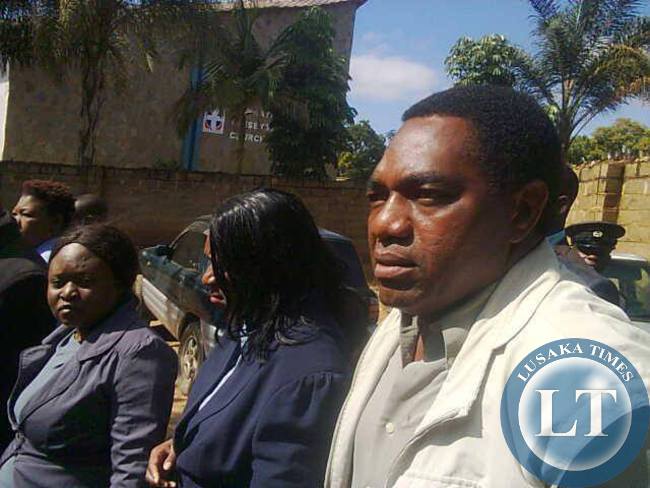 UPND President Hakainde Hichilema will spend his 55th birthday on Sunday in prison.
Mr Hichilema was on 4th June 1962 in Bweengwa village in Monze district
He is currently incarcerated on treason charges along with five other UPND supporters.
Mr Hichilema has been in police custody from April 11th 2017 when he was picked up from his New Kasama residence by a horde of riot police.
And the UPND has sent best wishes to Mr Hichilema on his birthday and wished him God's blessings.
UPND National Chairperson Mutale Nalumango said the UPND family and millions of Zambians are greatly inspired by Mr Hichilema's distinguished service and excellent record in all areas of human endeavours, that he has attained in all these years.
"Your determination and endearing spirit Mr President, is a great source of inspiration for many Zambians, especially our youth who look up to your entrepreneurship as a great example of achievement worthy emulating and experiencing," Mrs Nalumango wrote.
"We wish to quote a moving testimony and tribute to you Mr President by your dear beloved wife Mutinta Hichilema when she said, "My husband's spirit cannot be jailed in a prison cell, neither can it be docked in court, because it's a free spirit to live freely and to be of service to humanity and to the Almighty God."
Mrs Nalumango said ,"We appreciate you and your wife's selfless service to many disadvantaged, weak and marginalised people in our communities across our country, through various projects you have undertaken especially in areas of education and nutrition and health."
"We also recognise your unwavering and determined efforts to fight for social justice and civil liberties for all people, despite political hostilities and the harsh social environment that is currently prevailing in our Nation that has been caused by institutional intolerance and dictatorship."
She added ,"May God's countenance shine upon you, and may His grace sufficiently provide you with His protection, love, joy and peace that surpasses all understanding."
"God bless you Mr President and Happy Birthday once more and may our Lord God continue granting you wisdom, now and in future."