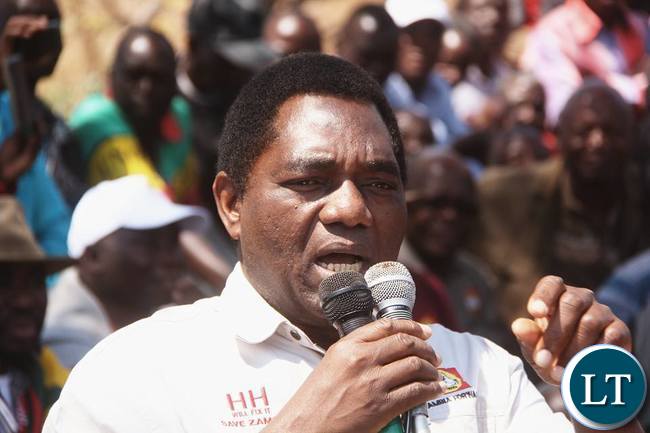 UPND leader Hakainde Hichilema has called for the immediate resignation of the Inspector General of Police Kakoma Kanganja for arresting and detaining citizens who are protesting against the corruption and injustices led by President Edgar Lungu.
"I am advising Kakoma Kanganja to resign on his own for stopping, arresting and detaining citizens who are protesting against the broad day light corruption of the PF and it's leaders especially Mr Edgar Lungu and his associates," said Mr. Hichilema.
Mr. Hichilema stated that the arrest and detaining of citizens under the orders of the Inspector General of Police is a clear indication that he too, like Mr Edgar Lungu is a beneficiary of corruption.
The UPND leader stated that the protests were lawfully intended but that the Police as usual obeyed political calls from the PF at the expense of stopping corruption in the country.
Mr. Hichilema has also warned the Inspector General of Police to stop playing politics and siding with lawlessness because doing so would make citizens lose confidence in the police.
"Kanganja must take note that he has for sometime now been an architect of lawlessness in the country and he is in that office, being paid by Zambians not PF, so when citizens demand answers they must be allowed to do but really Kanganja is trying hard to prove that he is part of lawlessness and citizens will teach him a lesson," Mr. Hichilema said.
And Mr. Hichilema has sympathized with the people who were arrested yesterday for lawfully intending to express their displeasure about the continued corruption and theft under the PF leadership.
"I sympathise with my sister Laura, my brother and Musician Chama Fumbe also known as Pilato, my brother Lewis Mwape, my sister Mwambanzi and others who were unlawfully arrested, detained and charged yesterday for simply demanding answers from Mr Edgar Lungu and his PF, please remain strong," said Mr. Hichilema.
He charges that if not careful, the Inspector General of Police will go down togther with the PF and it's leaders over corruption and several injustices on citizens.
And Mr. Hichilema has called on the Inspector General of Police to with immediate effect drop the charges against citizens who were arrested and detained yesterday for standing up against the Patriotic Front party's corruption on grounds that taking such matters before the court law is mere abuse.
"And I am calling on Kakoma Kanganja to drop these charges on citizens with immediate effect because not doing so will again prove that the Police are working hand in hand with the PF to suppress citizens but also abuse court time, and Kanganja does not learn especially that he, himself has been dragged to court before," added Mr. Hichilema.
The UPND leader also reaffirmed that it is because of such irresponsible conduct by the Police and it's command that the country should take keen interest and help restore normalcy.
And Mr. Hichilema has wondered that for how long will citizens be stopped from enjoying their fundamental human rights if the Police is in forefront abrogating the laws.
He however appeals to the nation not to sit idle when those claiming leadership are stealing with impunity and seemingly state institutions are there defending ills such as corruption.
Mr Hichilema emphasised that suppressing citizens, stealing from citizens and deliberately breaking the laws as is the case now must be stoped and amputed together with the PF and it's leaders.
This is according to a news statement issued by Mr Hichilema's Deputy Press Secretary Brian Mwiinga.
Meanwhile, opposition PeP President Sean Tembo who was arrested on Friday along with five others has vowed to continue seeking answers over the procurement of fire tenders.
Mr Tembo has since thanked Zambians for the warm wishes during his incarceration.
" I wish to thank you all Zambians for your warm wishes during my unlawful incarceration following our lawful protest at Parliament yesterday over the $42 million fire tender scandal. Me and my colleagues, Laura Miti, Pilato, Lewis Mwape, Bonwell Mwewa and Mika are extremely grateful to all citizens and we hope that you shall continue to stand on the side of accountability and patriotism, even as we move forward, Mr Tembo said.
He added, "Your support was invaluable in keeping us in high spirits while behind bars. Please continue with this spirit. Together, we shall liberate this country and ensure sanity prevails, if not for our own sake, then for the sake of our children and their children."
"To the media, we want to say a big THANK YOU for giving our protest the required coverage. We heavily rely on your galant professionalism for us to put our messages out there to the masses. You're true patriots. With noble and fearless men and women like yourselves, we are assured of victory in our quest for a better Zambia, devoid of the existing mediocrity."
Mr Tembo said the Patriots for Economic Progress's quest for justice to prevail on the issue remains unwavering and is just starting.
"We intend to pursue this matter all the way to its logical conclusion. In this regard, we shall this week be writing to President Lungu to follow up on modalities for our commissioned forensic audit in this matter," Mr Tembo said.
"Whoever unduly benefitted from this $42 million scandal needs to be very afraid because we are coming for them. As Patriots for Economic Progress, we shall be relentless in our pursuit of this matter until the truth comes out and justice prevails. That much is assured, come rain or sunshine."
And Musician Pilato has also thanked the public for the support rendered.
"One day we will ask ourselves, how did we get here? It will be too late because by then our voices will be faint and our ears blocked. We will try to stand up and fight but all those that would have helped us fight will not be there anymore. Then we will ask ourselves, how did we get here?"
"We were released last night. Thank you very much for your prayers and support. Zambia is our home, it is our responsibility. We will stand up for it again and again."
Meanwhile, Laura Miti also thanked Zambians for the outpouring of support.
"By now most of you know that we were released late last night and got home. Now lets go on and demand answers for #42For42 and for accountability generally. #SupportTheDemand."
[Read 18 times, 1 reads today]