String instruments aren't just for performing classical music—dynamic Zambian violinist Caitlin DeVille, is living proof of that.
She has performed across the globe in more than 26 countries on 5 continents to date. She has performed for royalty, Presidents, world leaders and her loyal fans.
Her performances incorporate a myriad of musical styles, from pop and hip-hop, infused with distinctive violin riffs and spectacular choreography that give her live shows immense appeal.
Caitlin's popularity skyrocketed after her amazing performance at the 2017 Stanbic Music festival. For many, myself included, it was the first time to watch her perform live.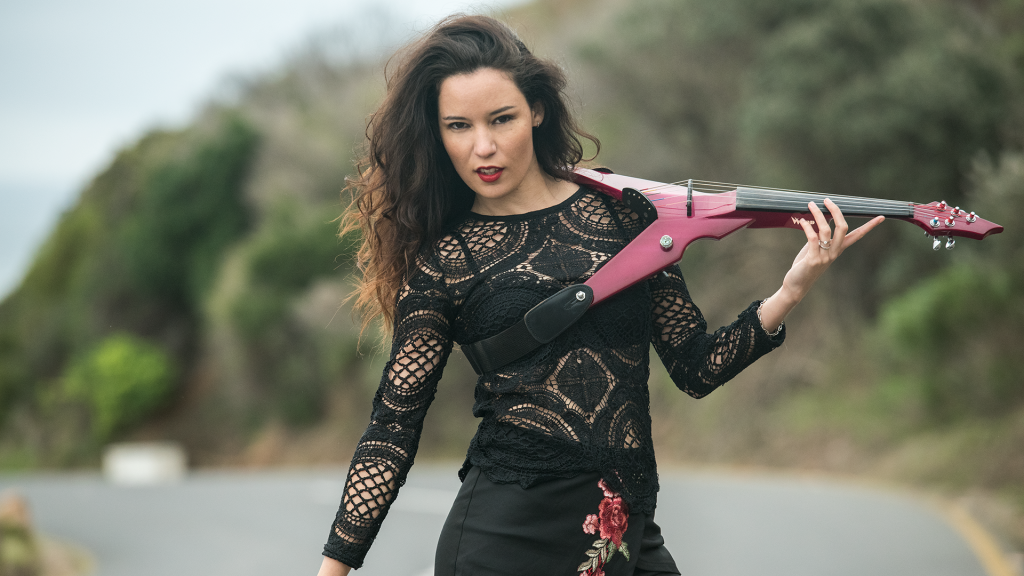 KAPA187: For a lot of people, the Stanbic music festival was their first time to hear about you. Were you nervous about the reaction you would get from the large audience?
 Caitlin DeVille : I think I was a little more nervous last year actually (2016 stanbic music festival) because I wasn't quite prepared for the scale of the event, this year I was really excited to get on that stage again!
KAPA187: I was personally blown away by your unique performance. How was the experience of performing at the same event as the legendary R&B group Boys II Men?
 Caitlin DeVille : Thank you! It was amazing – the crowd was incredible and that energy was electric! I only started feeling the pressure during the week before the festival as I was made aware that there were people out there that didn't expect me to work before the main act. I had a key resource in the form of my elder sister though; she was very into R&B in the 90s so I had a pretty good idea of the sort of audience that was going to be there and what sort of set they'd like to hear as a curtain raiser. Boyz II Men are an awesome example of how classics never go out of style, I think any artist aspires to create music that stands the test of time and so it was so great to hear some of those classics live – 'One Sweet Day' did it for me because I was also a huge Mariah Carey fan when I was little! Their band was amazing too but to be honest it was our local musicians that shone the brightest for me, especially The Elect Band who backed James Sakala and Chef 187, they just bring it every time.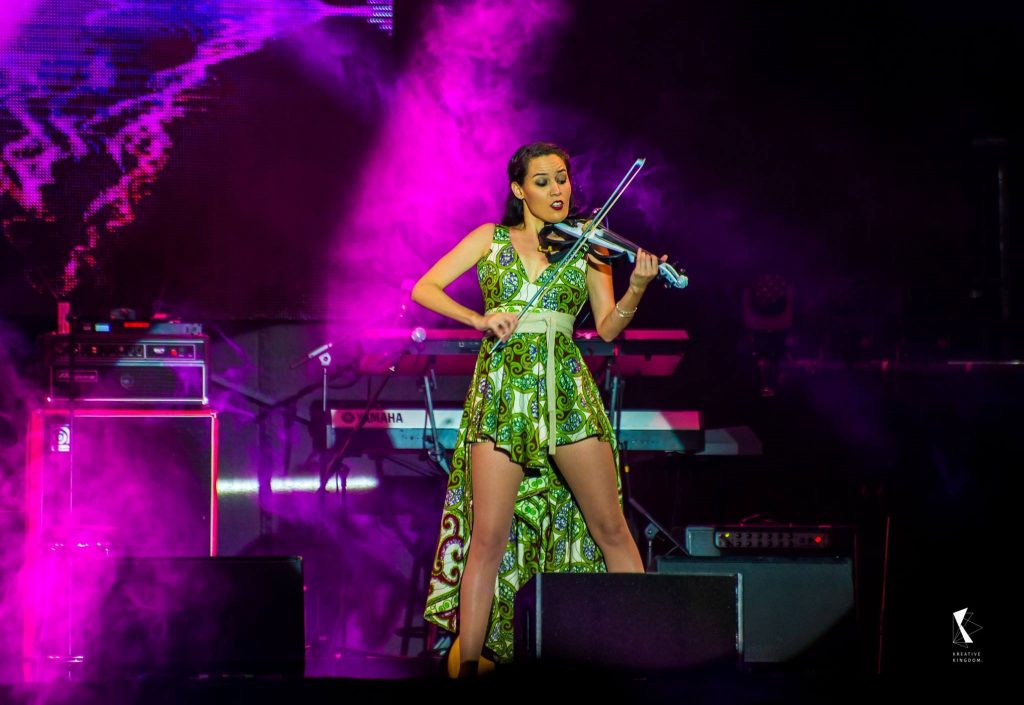 Being left breathless after her epic performance many fans were asking 'Who is Caitlin DeVille?'
Caitlin DeVille : I'm a Kopala girl – born in Chingola but taken home to and raised in Kitwe. I had an amazing family life and was always surrounded by music and creativity. I travelled to South Africa when I was 18 to see if a career in music was an option for me because at the time there was just no way I was going to make a living being a muso in Zambia; I'd already given it a decent go for a couple of years at that stage. I was seriously looking into other career paths before discovering I could actually be a full time musician in SA. So for the past 10 years – I'm giving my age away now – I've been based in Cape Town but have performed in 26 countries and on 5 continents to date. My family is still in Kitwe so I still consider it home.
KAPA187: What made you take up violin?
 Caitlin DeVille : I saw Vanessa Mae, an amazing violinist, performing on TV – she was playing a crazy looking instrument and I simply wanted to do what she was doing because it looked like fun. I was 9 at the time.
KAPA187: I would assume you are a classically trained violinist, what made you transition to a more pop-influenced electric music blend.
 Caitlin DeVille : You would assume wrong but I'll take it as a compliment! I had a teacher for my first year or so of training but she unfortunately left the country. I'm mostly self-taught and so pop music has always played a massive role in what I do. To stay disciplined enough to keep playing and progressing on such a difficult instrument I'd learn the pop music I enjoyed, by ear, in between the more serious stuff and that's still how I prefer to do things.
KAPA187: Wow, I never would have thought you were self-taught, that's great. You mainly work with an electric violin, what can you do with an electric violin that can't be done with an acoustic one.
 Caitlin DeVille : Wanting to play electric violin goes back to the beginning too, Vanessa Mae played an electric instrument on the TV programme I'd watched so that's what I wanted to do too. I had no interest in playing a traditional instrument but my Grandmother happened to have one so it all worked out nicely and I had one to get started on! For many years I actually didn't touch my acoustic violin but I recently started recording using that very instrument again. I prefer the electric for stage because it doesn't give feedback and you can play around with crazy live effects a little more and then for my videos because they look super cool! An acoustic instrument has more soul for recording purposes though I think.
KAPA187: What genres of music influence you? Can you think of any specific tracks that have had a significant impact on your own music style?
 Caitlin DeVille : I listen to a lot of house music and reggaeton these days but my favourite genre is probably symphonic metal, beautiful melodies with rock band power backing them – they all influence me in different ways. Specific tracks: 'Insomnia' by Faithless, 'Toca's Miracle' by Fragma & 'Sky' by Sonique carved a permanent place for dance music in my heart. Vanessa Mae's 'Contradanze' is still one of my favourite classical-crossover tracks to this day and is probably the one that made me want to play the violin in the first place.
KAPA187: How do you prepare for a show, any pre-show rituals?
 Caitlin DeVille : Not really. I guess I get quite 'into the zone' just before a big performance and probably come across as very pensive but I'm really just switching my brain from thinking about things like 'did I remember to switch the stove off?' to being in show mode.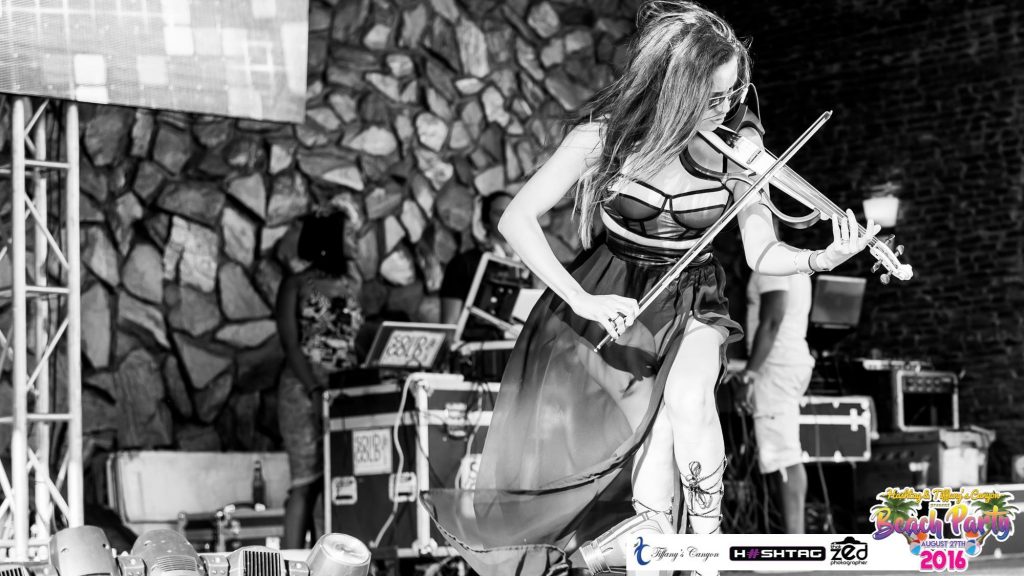 Caitlin has done covers of pop hits from international acts such as '2U' by David Guetta ft Justin Beiber, 'despacito' by Luis Fonsi ft daddy yankee ,'Wild thoughts' by Dj Khled ft Rihanna and many more.
 KAPA187: Your cover of 'Galamukani' by James Sakala was a huge hit at the recent the Stanbic music festival. Do you plan on covering more Zambian/African music?
 Caitlin DeVille : Yes! Definitely. I've actually just covered awesome Zambian house producer El Mukuka's 'Bottle of Loneliness' – both that and my cover of 'Galamukani' are receiving lots of international love on my YouTube channel, they're about to hit 100k views each within their first couple of weeks – which is great to see. I'm covering a track by Adekunle Gold from Nigeria sometime over the next month or so and we'll see what pops up after that. More than just covering tracks though I'm looking forward to collaborations with El Mukuka, James Sakala and Jay Rox which are all in the pipeline.
KAPA187: Definitely looking forward to your upcoming collaborations. You are mainly known for doing covers, have you worked on some original compositions?
 Caitlin DeVille : I do have some original content out there, I actually played a little teaser of my latest original at the festival. Although my previous original work definitely represents the path taken to get me to my current sound and I'm proud of it – it mostly doesn't work with my live performance style, it was composed for the sake of making music videos really. I've mainly focused on covers this year to gain more international exposure and support – people always respond well to music they recognize and love already and that then leads them to give your original content a chance too – but there will be more original content coming out soon for sure.
Caitlin's YouTube page is one of the most subscribed (over 200 00) and viewed channels in Zambia with over 43 million plays on her videos! The most viewed video on her page is the Rockabye (Clean Bandit ft Sean Paul & Anne-Marie) cover with an astounding 9 million views!
KAPA187: Your videos are simple yet creative and picturesque. How do you come up with the concepts for your videos to keep them fresh?
 Caitlin DeVille : I keep an eye out at all times for new locations wherever I am and so does my family. What I wear also plays an important role in making it all come together and keeping it fresh – I've worn outfits by Zambian designers in a couple of videos recently and people have gone crazy for them! When we head to a shoot it's pretty much always just me and whoever is shooting – I try film them mainly when I'm home, which means it's usually my brother who happens to be a photographer, behind the lens. We're comfortable being blunt about what works and what doesn't, he'll tell me straight if something isn't right and I'll tell him off if I don't like anything – so basically all we try do is choose great locations, have me perform like I would if I had an audience and then hope for the best.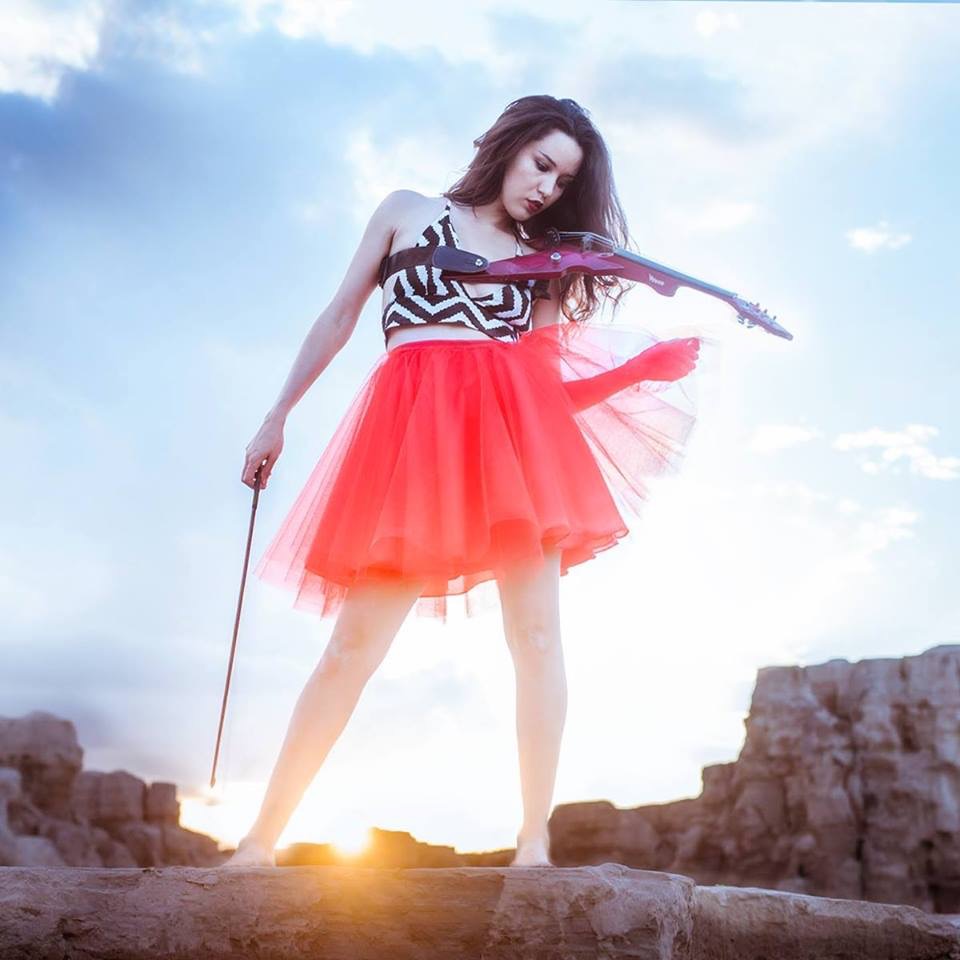 KAPA187: Do you have anything in the pipeline that your fans will be excited about?
 Caitlin DeVille : I've started working on my first album of originals which will be out next year!
KAPA187: That's great, cant wait for that one. Apart from music, what else are you involved in?
 Caitlin DeVille : Currently my career has me working in overdrive! I have loads of traveling coming up before the end of the year for gigs – I'm actually on a plane on my way to Milan right now! Between gigs and shooting videos and recording for them etc I handle all of my own gig admin and then I do all of my own video editing in between that. So I'm currently either working or sleeping!
KAPA187: What can be done to encourage youths to take up learning to play an instrument?
 Caitlin DeVille : It starts with exposure to live musicians, preferably at concerts so I guess more quality live music festivals and events would be a good start. There needs to be that spark, something that just clicks and makes them want to be a musician. A lot of hard work and time goes into learning any instrument of course but with a genuine interest that's all made a little easier.
KAPA187: Any last words?
Caitlin DeVille : Thanks so much for the interview and checking out my work, looking forward to being on home soil again soon for more shows!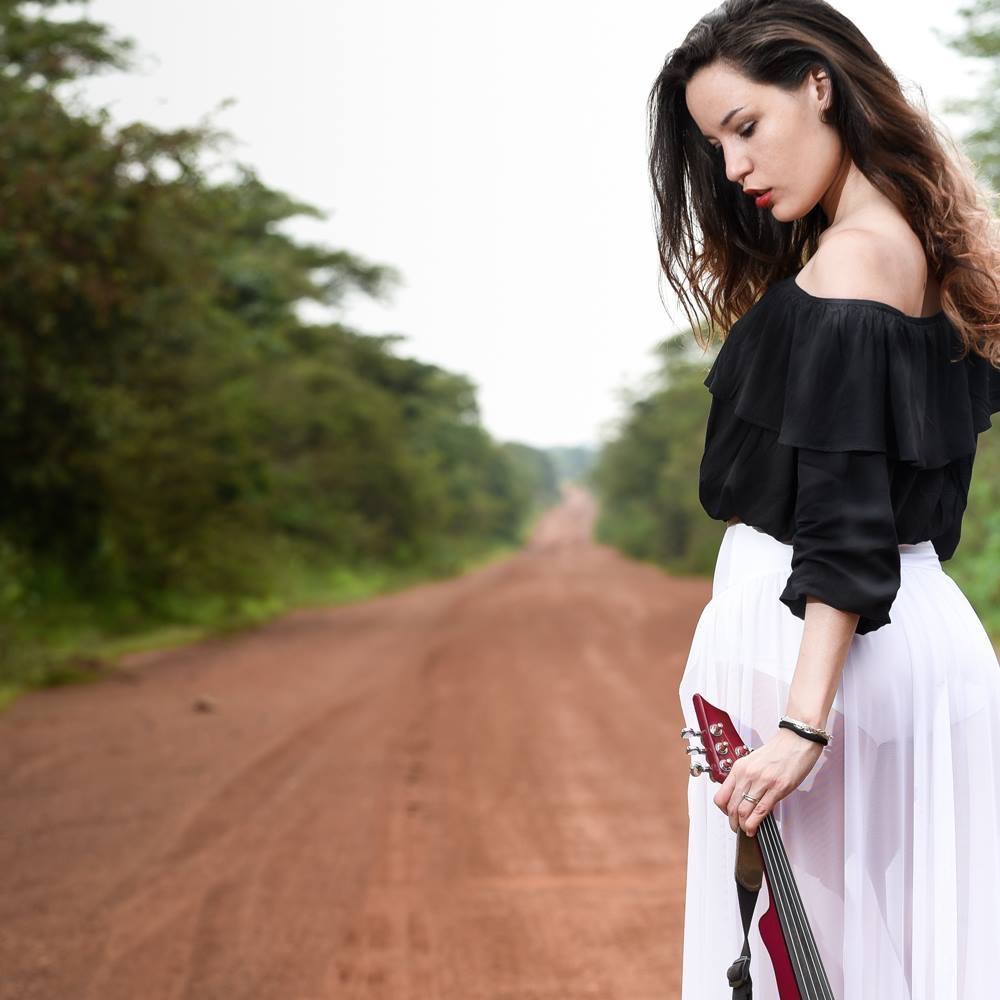 THE MUSIC
Galamukani cover
Wild Thoughts Cover
Rockabye (Cover)
Watch more of her video at her official YouTube page Cailtlin Deville
Interact with Caitlin DeVille on Social media:
Twitter: @caitlindeville
Instagram: caitlindeville
Facebook : caitviolin
BY KAPA187