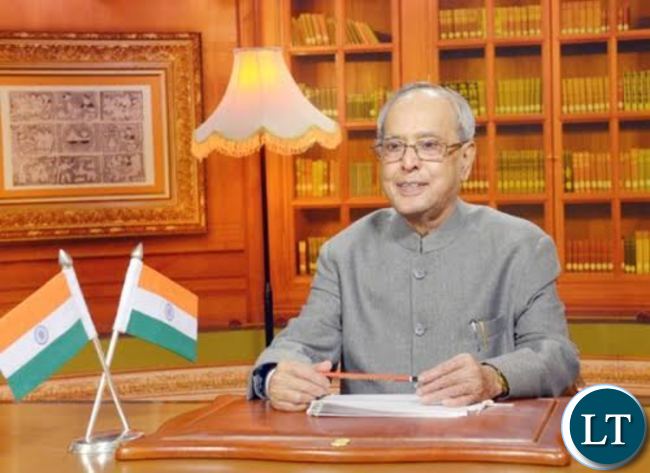 President of India Pranab Mukherjee has extended his greetings and felicitations to the Government and the people of the Republic of Zambia on the eve of their Independence Day.
In his message to President Edgar Lungu, President Mukherjee said, 'On behalf of the Government, the people of India and on my own behalf, I extend to you and to the people of Zambia, warm greetings and felicitations on the occasion of your Independence Day.'
'Our two countries share long standing cordial and friendly relations. I am confident that our relations will strengthen further in the years to come for the mutual benefit of our two peoples,' Mukherjee said.
'Please accept, Excellency, my best wishes for your personal health and well-being as well as for the progress and prosperity of the friendly people of Zambia,' he said.
And CHINESE President Xi Jinping has congratulated President Lungu and Zambians for attaining 51 years of self-rule.
"I wish to extend, on behalf of the government and people of China, and in my own name, my warmest congratulations to you and, through you, to the government and people of Zambia," President Xi said.
"May the Republic of Zambia enjoy prosperity and people live in happiness and harmony."
In a statement from Beijing released by the Chinese Embassy in Lusaka, President Xi acknowledged and applauded Zambia's efforts in safeguarding national unity and stability aimed at promoting economic development and improving people's livelihood.
President Xi said he attaches great importance to the development of the China-Zambia relations and remained ready to work with his counterpart to further deepen the bilateral, traditional friendship and co-operation in various fields for mutual benefit.
And GERMANY President Joachim Gauck has congratulated President Edgar Lungu and the citizen of Zambia on the Country's Independence Day.
In a letter to President Lungu, President Gauck said his country would continue to stand by Zambia and its citizens as a firm friend and reliable partner.
"Since attaining independence over half a century ago, your country has developed in an exemplary manner, thanks to the peaceful
co-existence of numerous ethnic and religious groups, friends of religion and the Zambian tradition of democratic handovers of political power," he said in part.
President Gauck said the generous hospitality which the Republic of Zambia extended to the refugees from its neighboring countries was sending an important signal, particularly at that point in time.
This is contained in a statement issued by Embassy of Germany Press and Public Relations officer Carolin Bernecker today.