Time Posted: July 29, 2014 1:10 pm
MMD determined to bring new style of politics -Nevers Mumba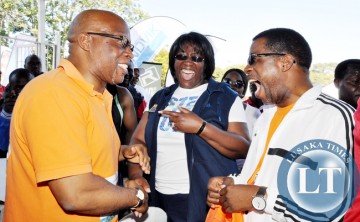 Movement for Multiparty Democracy (MMD) president Nevers Mumba says his party is determined to bring a new style of politics to the country's political arena. Dr. Mumba said politics of..
Prof Clive Chirwa found with a case to answer
Time Posted: July 29, 2014 5:52 am
FORMER Zambia Railways Limited (ZRL) chief executive officer Clive Chirwa has been found with a case to answer in the case of abuse of authority and failure to disclose interest…
Following Police IG's motorcade lands UPND MP in trouble
Time Posted: July 28, 2014 6:33 pm

Opposition United Party for National Development (UPND) Senanga Member of Parliament Likando Mufalali has accused a Police officer in Inspector General of Police Stella Libongani's motorcade of assaulting him. Mr…
I'm not a thief, tribal tag does not bother me- Hakainde Hichilema
Time Posted: July 28, 2014 12:26 pm
Opposition UPND leader Hakainde Hichilema has rubbished assertions that he personally looted state resources during the privatization programmes by undervaluing some state assets. Mr Hichilema maintained that he offered a..
More Stories in Archives