Time Posted: July 24, 2014 1:32 pm
Scott seeks Scottish help to develop health sector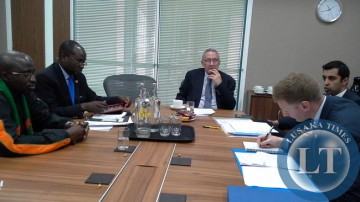 Zambia has requested the government of Scotland to help her to further develop the health sector in order to improve the wellbeing of Zambians. Vice President Guy Scott asked the..
Zambia has a functional constitution in place, Lungu tells Parliament
Time Posted: July 24, 2014 5:01 am
Parliament heard yesterday that the Minister of Justice and Attorney General will advise on the roadmap and steps to be undertaken on the draft constitution once the document is tabled..
Constitution sufficient to warrant rights if interpreted correctly -Godfrey Miyanda
Time Posted: July 23, 2014 6:27 pm

Former Republican Vice President and Heritage Party Leader Godfrey Miyanda has submitted to the Legal and Justice Reforms Sector Commission that the Zambian constitution was sufficient enough to warrant citizens..
UPND will not waste time pursuing the leaders from the PF once in power-HH
Time Posted: July 23, 2014 12:23 pm
United Party for National Development (UPND) president Hakainde Hichilema has condemned the culture of vengeance, vindictiveness and retribution allegedly being perpetrated by the Patriotic Front (PF). And Mr Hichilema says..
More Stories in Archives